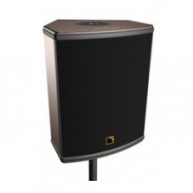 The 12XT active/passive cabinet is the mid sized model of the L-Acoustics XT coaxial series and has an operating frequency bandwidth of 55 Hz to 20 kHz. This response can be lowered to 32 Hz with the addition of the SB18 Subwoofer.

The 12XT enclosure contains a 3'' diaphragm Compression Driver coaxially loaded by a 12'' low frequency transducer mounted in a bass-reflex tuned enclosure. In passive configuration, the 12XT onboard crossover network uses proprietary third order filters. The linearization and protection of the transducers is defined by the drive parameters contained in the amplified controllers.

The coaxial transducer arrangement produces a 90deg axi-symmetric directivity output along with a smooth tonal response free of any secondary lobes over the entire frequency range.

Made of high-grade Baltic birch plywood, the cabinet design makes the 12XT perfectly suited to all multi-purpose sound reinforcement applications. Its wedge-shape allows short or long throw monitoring use with two fixed angle settings of 30˚ and 60deg from vertical. The 12XT can also be pole-mounted using the integrated socket or flown using the complementary ETR12-2 bracket, XTLIFTBAR accessory or a 3rd party Omnimount fixture.

The 12XT is driven by the L-Acoustics amplified controllers in the following active or passive modes (selectable by an active/passive switch behind the front grill):

* ''FULL RANGE'' mode for standalone use of 12XT at nominal bandwidth ([12XTA_FR], [12XTA_FI], [12XTA_MO], [12XTP_FR], [12XTP_FI] and [12XTP_MO] presets)
* ''HIGH-PASS'' mode with 100 Hz high-pass filter to possibly associate the complementary SB18 Subwoofer (same presets as above with ''_100'' extension)

For each mode a distinction is drawn between [FRONT], [FILL] and [MONITOR] presets as they respectively match front of house, distributed applications and half-space loading operating conditions.

The performances of the 12XT enclosure depend upon the choice of preset and physical system configuration.
L-Acoustics
Founded by Dr Christian Heil in 1984, L-ACOUSTICS has revolutionized the Pro Audio industry with its legendary Line Source Systems. For the past two decades, L-ACOUSTICS has developed a reputation for creating innovative solutions to the most demanding sound reinforcement requirements. Commitment to the scientific method and product innovation have been our philosophies from the outset. But innovation doesn't stop with the product itself: with continued value enhancements, we offer you exceptional product durability. L-ACOUSTICS is more than a sound system manufacturer, it is a full service partner dedicated to customer support. The Best Sound Comes From One Source
Used Custom Speakers
Custom speakers are customized loud speakers which have been built for a special purpose. Sometimes, in concerts or theaters, sound technicians require customized speakers so that the quality and characteristics of the sound waves can be adjusted to suit their specific intentions. Other types, people simply have a preference for a certain custom speakerā??s designs, and these need to be specially made. Itā??s possible for any type of speaker system to be made into customized loud speakers. Custom speakers include full range drivers, mid range speakers, tweeters, woofers, subwoofers and even coaxial speakers. Sometimes custom speakers are needed to be able to withstand certain atmospheric or weather extremes, such as in the case of speakers which will be used in outdoor venues. These custom speakers can be specially designed to withstand various extremes of temperature and humidity levels, while they are also designed to stand up to inclement weather like rain, frost, dust storms etc. Customized loud speakers built for outdoor venues are known for their reliability, as they are made from tough, high-performance cone materials. These materials have been proved to stand up to the worst extremes of cold and heat, aridity and humidity, and so custom speakers such as these are highly prized in outdoor venues. Ordering custom speakers is simple. Just state what kind of temperature and weather extremes you need the custom speakers to withstand, and we can suggest the best materials for the job.