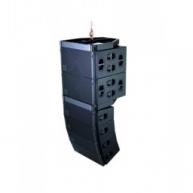 The high output J-Series reaches into large-scale sound reinforcement situations, extending further the spectrum of applications d&b systems embrace. The transparent and detailed Audio Performance with extraordinarily smooth and even frequency response, dynamic bandwidth, extreme high power and headroom capabilities, makes the J-Series the ultimate choice for the far-reaching reinforcement of any sound genre. The J-Series consists of the J8 and J12 loudspeakers and the J-SUB cardioid Subwoofer that are acoustically matched and constructed to be mechanically compatible both in flown or ground-stacked arrays. For extended frequency response the J-INFRA cardioid Subwoofer can be used to supplement the system in various combinations. The high fidelity J-Series, pushing all the boundaries, but yet stays true to the maxims of the d&b System reality.

db audiotechnik
d&b audiotechnik has been developing, manufacturing and distributing loudspeaker systems since 1981. The company operates internationally in the field of electroacoustics to produce high quality products for reinforcement of speech and music. Through the amalgamation of technological developments, system integration principals, quality of construction and standards of service, d&b pursues a systems approach that includes all aspects of design, development, manufacture and support. d&b's loudspeakers are used globally in rental and installation markets for events, multimedia, musicals, concert halls, theatres, opera houses, broadcast and everything from the smallest conference room to the largest stadium.
Used Line Array Speakers
Find used line array speakers and line array elements from such popular brands as L-Acoustics, d&b audiotechnik, Meyer Sound and Nexo. All used line array speakers are warrantied and in most cases inspected by factory certified technicians. Solaris sells and buys secondhand and used line arrays for large concerts, tours, stadiums and auditoriums. Call us if you don't find it and we will find it for you.