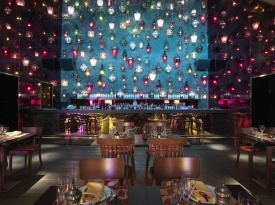 Nomads Istanbul Gets L-ACOUSTICS Coaxial System Vibe
June 16th, 2011
A new branch of the famous Nomads Club has opened its doors in the Turkish capital Istanbul, boasting a new L-Acoustics coaxial sound system installation.

Nomads Istanbul, as the club is known, closely follows the original Amsterdam Venue concept, doling out an exotic Fusion of Eastern and European cultures in both its cuisines and its stylish interior decor.

However, the style doesn't end with the decor and the cuisine - Nomads Istanbul's new owners also saw fit to make technical design one of the key attractions of the new Venue, installing an L-Acoustics system comprising four 12XTi and seven 8XTi coaxials, together with four SB18 subs to provide sublime acoustics inside the club. The new system is driven by three LA4 amplified controllers.

The installation team said that L-ACOUSTIC's system was the best choice to provide the mystical ambience for which Nomads is so famed.