Concert lighting, sound and video is critical to the performance industry. Events, tours and shows are all driven by precision technology to cover the audience. Concert and stage products such as speaker line arrays, moving automated lights, audio consoles, LED video walls and projectors all turn a small quiet outing into a major performance that can bring in audiences from 500 to 100,000 listeners and viewers. Major manufacturers such as L-Acoustics, Clay Paky, Meyer Sound, Christie Digital, Color Kinetics are pioneers in the field of concert production equipment and technology.

Concert lighting came about as a need for theatre enhancement. The Greeks had their theatres in the open air where the sun could light the stage. Plays would occur at different times of day to take advantage of the different lighting. The planning WAS early stage lighting. Concert and stage lighting has developed of many years. Used were candles, the sun,gas, torches oil and lime lighting.. Todays stage lighting flourished with the invention of the incandesant light in the 1800's. Now a small, safe and portable lighting source could be used to light the stage. Todays stage lighting needs are extremely high tech and costly. Solaris provides the service of helping buyers find the best deals on used stage lighting, used concert lighting, used audio and video gear and used rigging gear as well.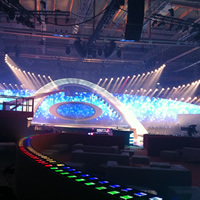 Litecom Europe chooses Solaris for Moving Lights

European production company Litecom purchased 30 Varilite VL500 Wash fixtures from Solaris to compliment a show of over 200 moving lights.
"Needing to deliver more than 200 VL500 to different customers in the Nordic countries, we needed 30 more fixtures immeniately to service an important client. Solaris sorted out where to get the fixtures for a reasonable price. We received the shipment, and all fixtures were nice, and in 100% working condition and work beautifully with our other units. Solarisâ"¢ delivered a level of service that makes you feel secure about your transaction as the client, with well maintained equipment at a fair price."