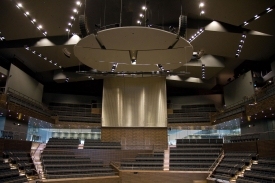 Helsinki Music Hall Gets L-ACOUSTICS KIVA System
June 28th, 2011
Engineers at the Helsinki Music Hall in Finland have completed the installation of a new KIVA WST line source system.

The 17,000-seater hall is used by the Helsinki Philharmonic Orchestra, the Sibelius Academy and the Radio Symphony Orchestra, amongst others, and is also booked throughout the year for various concerts.

The L-Acoustics system was configured with sound sources to the front, rear and side, with units installed in the ceiling and two nine-KIVA hangs flown at a 15.5m height in the canopy to cover the front audience area. Another two eight-KIVA hangs were flown at 15.5m to provide coverage for the rear seating areas in the hall, while two six-KIVA hangs were installed to cover side seating areas.

360 degree directivity is another feature of the installation, provided by two vertically mounted SB18i subs, located just behind the front line arrays.Driving the whole system are five LA8 amplified controllers.

Also installed were an extra eight L-Acoustics 12XT coaxial systems, driven by four LA4 amps, to be employed as floor Monitors.