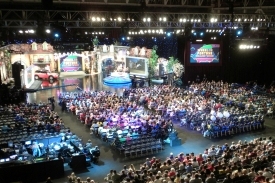 Fortune Chooses L-ACOUSTICS KARA System for TV Show
May 8th, 2011
Producers of the famed TV game show Wheel of Fortune adopted an L-Acoustics KARA system for the filming of 15 episodes of the show on location in New Orleans,Louisiana.

Filming took place last month over a period of three days - with the 15 episodes said to be enough for three weeks worth of the show's broadcasts - in front of a 3,000 Strong audience in theErnestN. Morial Convention Center's Hall J.

An LCR system incorporating three arrays was flown for sound reinforcement - each array encompassing a total of ten KARA enclosures. Eight SB18s were also flown, four for each side, to provide LF, while outfill was provided by a couple of 12XT enclosures.

Meanwhile, two nine dV-DOSC hangs were used to create a delay system at the venue. Each of the enclosures were driven by LA series amplified controllers.