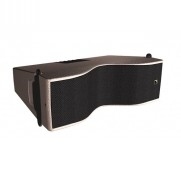 The KIVA Modular Line Source element has an operating frequency bandwidth from 80 Hz to 20 kHz and this response can be lowered downto 50 Hz with the addition of the KILO low frequency extension cabinet.

KIVA features two 6.5'' drivers in a bass-reflex tuned enclosure and a 1.5'' diaphragm Compression Driver coupled to a DOSC waveguide for HF reproduction. The passive crossover network uses 2nd order filters with built-in phase compensation.

The V-shaped coplanar transducer configuration generates a symmetric horizontal coverage of 100deg without secondary lobes over the entire frequency range.

The combination of coplanar symmetry and DOSC waveguide in the HF region allows the system to fulfil the 5 WST criteria, thereby allowing the wavefront of a KIVA line source to be curved up to a maximum of 15˚ for each element without breaking the inter-element acoustic coupling.

The captive 3-point rigging system is fully integrated into the KIVA cabinet allowing up to 20 Elements (or 12 KIVA and 4 KILO) to be flown in accordance with the manufacturer's recommendations.

The KIVA cabinet is made of a unique composite material with remarkable acoustic properties (very similar to Baltic birch plywood) and with the added benefit of a high immunity to moisture.

The KIVA enclosure is driven by the dedicated LA4 amplified controller. The performance of KIVA depends upon the choice of preset and physical system configuration.
L-Acoustics
Founded by Dr Christian Heil in 1984, L-ACOUSTICS has revolutionized the Pro Audio industry with its legendary Line Source Systems. For the past two decades, L-ACOUSTICS has developed a reputation for creating innovative solutions to the most demanding sound reinforcement requirements. Commitment to the scientific method and product innovation have been our philosophies from the outset. But innovation doesn't stop with the product itself: with continued value enhancements, we offer you exceptional product durability. L-ACOUSTICS is more than a sound system manufacturer, it is a full service partner dedicated to customer support. The Best Sound Comes From One Source
Used Line Array Speakers
Find used line array speakers and line array elements from such popular brands as L-Acoustics, d&b audiotechnik, Meyer Sound and Nexo. All used line array speakers are warrantied and in most cases inspected by factory certified technicians. Solaris sells and buys secondhand and used line arrays for large concerts, tours, stadiums and auditoriums. Call us if you don't find it and we will find it for you.
KIVA and Kilo Package - Like New. (12) Kiva, (4) Kilo. Rigging and flight cases included.
Kiva System - Complete Kiva / Kilo system from 2008.
Kiva and Kilo Package - Package of (14) Kivas and (8) Kilos. Used on a theater installation.
Kiva - Package of (12) Kiva and (4) Kilo in like new condition, from 2011.
Kiva - Corporate used package of (12) KIVA and (4) KILO, from 2011.