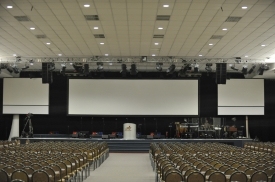 UK Church Installs KARAi Modular WST Line System
June 20th, 2011
The UK has seen its first permanent installation of an L-Acoustics KARAi modular WST line source system, which was fitted at the 2,000 capacity Jesus House church in North London.

The church, which belongs to the Redeemed Christian Church of God, provided an interesting challenge for installation technicians. Techies chose to cover the 60m deep x 25m wide audience area in the church with a standard left/right system covered by six KARAis on each side, with two LA8 amplified controllers powering them.

Built into the main stage were four SB18is subwoofers, so as not to obscure the viewing perspective of the congregation. For frontfill, two 12XTi coaxials was added, while an additional three 12 XTis were flown at the back in order to provide coverage for the small balcony there.

Engineers commented that the L-Acoustics system was "very efficient", and revealed one of the main reasons they chose it was because it has the potential to be scaled up at a later date.