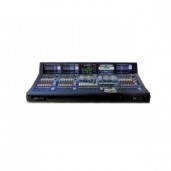 The XL8 live performance system is truly revolutionary and heralds Midas' entry into the digital mixing realm. However, this is not merely another digital mixing console. XL8 offers an incomparable design combining exemplary sound quality, flexibility and reliability with an ease and familiarity of use unrivalled by other digital control surfaces. XL8 is the first of a new generation of open-architecture, cross-platform, integrated audio control and distribution systems, which brings control of not only audio, but other aspects of a live performance to a single, intuitive control centre.

As well as offering Classic Midas audio quality and superb reliability, XL8 actually improves upon the performance of the analogue consoles, which have established Midas as the number one choice of sound engineers the world over. XL8 represents a new generation of networked systems, requiring only mics, amps and speakers to provide a complete audio system.

The XL8's open architecture ensures that both third-party hardware and software, including ??plug-ins can be easily integrated into the system. The very latest in high-speed networking technology ensures that XL8 will conform to all the Classic Midas brand values of sound quality, reliability and longevity; it will not be obsolete in a few years.
Midas
Midas has been designing and manufacturing live performance mixing consoles for the worldâ??s most demanding sound engineers, performers and production rental companies since the early 1970s. The evolution of Midas consoles throughout the 30-year history of this classic marque has always paralleled, and often led, increasingly sophisticated audio innovations for the world-wide entertainment technology industry. Raising the standards of sonic quality through continual research and development has always been - and still remains - our overall aim. Equally important to us is the design and implementation of many new areas of control functionality and user-friendly desk operation to anticipate and accommodate the rapidly changing and expanding needs of audio professionals who specify Midas consoles for their major tours, festivals, international events, broadcast projects and prestigious fixed installations. The Midas design pedigree has, since our birth, been founded upon a track record of achieving a unique symbiosis with working sound engineers around the planet - engineers who respect and endorse our proven technology in the light of their responsibilities to their internationally-based clients who are themselves the leading lights of our industry.
Used Digital Mixing Consoles
Audio mixers, or sound consoles, are electronic sound mixing boards used to combine two or more audio signals, before directing them to the output channels connected to the device. Sound consoles do a great deal more than just combining different audio signals they allow users to optimize the sound output in a number of ways adjusting various sound levels, enhancing sound with special effects and equalization etc, allowing for unmatched control over the end product.