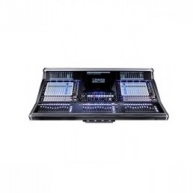 The SD5s worksurface is a low noise, heat dissipation worksurface benefiting from Hidden-til-lit (HTL) technology, yet its five digitally driven full colour TFT LCD screens, three of which are touch sensitive, have a new configuration that allows easy access to single or multiple users. There are also two interactive dynamic metering displays (IDM)) and instant access 'quick select' buttons which are positioned conveniently down the left side of the two channel screens for fast and intuitive navigation.

Incorporating the master screen into the worksurface meterbridge design has allowed for complete user feedback, but maintained a lower profile meter bridge. This still allows clear visibility of those on stage for the user, with everything in close reach to the mix position.

As with all SD range consoles, the SD5s superior headroom, dynamic range and audio quality are of paramount importance and its feature set surpasses any other console in its class.

As standard, the SD5 comes with a 2Gb fibre optic system, which is capable of running 448 channels of I/O at 96kHz, plus 56 console-to-console tie lines, allowing connection to up to 14 of the SD-Series racks. There are three redundant MADI ports and local I/O includes eight microphone inputs, eight line outputs and eight AES I/O (mono).

The SD5 has 124 input channels; 56 configurable busses, plus up to 5.1 master; a 24 x 24 fixed Matrix; DiGiTubes on every channel, buss and output; 24 assignable Dynamic EQ; 24 multiband compressors; 24 stereo effects; 32 Graphic EQ; 10 x 4 (40) RGB backlit macro buttons; plus the ability to add a Waves upgrade.
DigiCo
DiGiCo (UK) Limited brings together the design and development skills that have helped create some of the world's most popular, successful and ground-breaking live sound consoles, with the digital engineering expertise and manufacturing resources of Soundtracs. The company was formed in 2002 to develop the D5 Live digital mixing system, a revolutionary approach to both the live sound console and the way it interfaces with both ends of the audio chain. In basing a console around a powerful DSP engine using proven Soundtracs hardware and software, but with features dedicated to live sound mixing, DiGiCo created the world'??s first truly open-ended console system, for which additional features will be made available in new software versions. This design philosophy ensures your investment in state of the art audio technology today will remain state of the art in the future. The D5 Live from DiGiCo: science dedicated to advancing the art of live sound engineering. Soundtracs was formed in the early 1980s by a group of recording engineers in search of a better studio console than those available at the time. The team'??s success led to two decades of audio innovation and, in 1992, its first development of a digital audio mixing console. In 1996 this program led to the launch of the acclaimed Virtua console, followed a year later by the DPC, in 1998 the DS3 and in 2000 the D4. Since 2000 the company'??s product range has been based entirely on digital audio. Along the way a host of new technologies has been introduced, including the first use by a console manufacturer of the revolutionary Sharc DSP from Analog Devices, a faster, more efficient processor than any then on the market, the first (and still the most comprehensive) use of multiple TFT LCD touchscreens, a pioneer in the use of a 96kHz sample rate, and the first to run multiple sample rates simultaneously. This is just some of the experience that has gone into creating the D1 Live digital mixing system, the latest innovation from one of the pioneers of professional digital audio.
Used Digital Mixing Consoles
Audio mixers, or sound consoles, are electronic sound mixing boards used to combine two or more audio signals, before directing them to the output channels connected to the device. Sound consoles do a great deal more than just combining different audio signals they allow users to optimize the sound output in a number of ways adjusting various sound levels, enhancing sound with special effects and equalization etc, allowing for unmatched control over the end product.