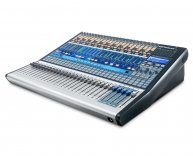 You'll never go back to an old-skool analog mixer once you've used StudioLive?. With its incredible signal-processing power on every channel, easy store and recall of every setting, and the ability to record it all with just two mouse clicks, you'll get spoiled fast! Easier to use, better sounding, and flawlessly integrated with state-of-the-art software, it delivers the most creative environment possible for both live performance and studio music production.
But StudioLive is not simply a mixer, it's a rapidly growing family of state-of-the-art, integrated hardware-software mixing and Recording systems that deliver the features you need for live sound, live Recording, and studio Recording.
The Studiolive 24.4.2 is a fine choice for those who want to mix small to medium-sized shows and worship services, and it's a great choice for club systems, corporate applications, and educational institutions. And it's the perfect hardware CORE for a project studio.
Or daisy-chain two StudioLive 24.4.2s to form a 48x4x2 performance console for mid-sized shows and events.
Here, in one device, are high-headroom XMAX? microphone preamplifiers, a built-in FireWire Recording and playback interface, more than 90 signal processors, a big library of DSP effects, 10 aux buses, 4 subgroups, extensive LED metering, mixer save and recall, channel-strip save/recall/copy/paste, talkback, and more.
Yet despite its many controls and features, it's compact and easy to transport.
Build live mixes that glisten with clarity and detail??then record and enhance the performance with the power of Studiolive 24.4.2. Get creative in the studio. Build mixes, loops, sound effects, and more, then bring them out to your show and mix them with the live performance. Process channels using your favorite plug-ins and completely automate your entire performance.
Studiolive 24.4.2 revolutionizes music production, opening endless creative possibilities.
Presonus
Founded in 1995, PreSonus Audio Electronics has become known for delivering professional quality audio products at affordable prices to audio professionals, musicians and hobbyists around the world. The PreSonus staff in the sales, engineering, and customer service departments all have years of experience in professional audio as musicians and sound engineers which brings passion for music-making to every facet of the company. PreSonus'?? founder and President Jim Odom is credited with two RIAA Certified Gold Records, one Certified Platinum Record along with two Ampex Golden Reel Awards as a musician/producer/engineer. In addition to experience in audio, the design engineers have extensive backgrounds in military specification surface mount technology ensuring all PreSonus products are built to last and can handle real-world situations. Our staff takes pride in the fact that PreSonus products boast one of the highest reliability rates in the industry. Also PreSonus holds patents in digital control over analog which was used in PreSonus'?? first product, the award-winner DCP-8 in 1995.
Used Digital Mixing Consoles
Audio mixers, or sound consoles, are electronic sound mixing boards used to combine two or more audio signals, before directing them to the output channels connected to the device. Sound consoles do a great deal more than just combining different audio signals they allow users to optimize the sound output in a number of ways adjusting various sound levels, enhancing sound with special effects and equalization etc, allowing for unmatched control over the end product.