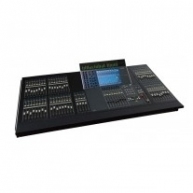 If you're planning to build or upgrade a mid-size sound system - installed or portable - now's the time to move up to a top-performance, easy-operation digital system based on the M7CL. This is one digital mixing console that lets you concentrate on sound without being overwhelmed by the technology.

* 48 or 32 mono microphone/line inputs, 4 stereo inputs, and 3 mini-YGDAI card slots (a total of 56 or 40 mixing channels).
* 16 mix buses, LCR bus, 8 Matrix channels, and 8 DCAs assignable to 16 omni outputs.
* Virtual effect and EQ rack: up to 4 simultaneous multi-effect processors; up to 8 simultaneous 31-band graphic EQs.
* Centralogic? interface: central, logical, and intuitive.
* Dual power modes: use the built in Power Supply, or add an external PW800W Power Supply unit (optional) for failsafe dual-supply operation.
* Compact and lightweight: 48 channels in the space and weight normally required for 24.

Yamaha's Centralogic? interface takes the most direct approach to giving you maximum operational ease and efficiency in a digital console. Rather than trying to simulate the feel and workflow of an analog mixer, Centralogic? goes straight to the heart of the matter, simplifying digital operation to the point where it is actually as intuitive as analog ... if not easier. A touch-panel display combined with Yamaha's acclaimed selected channel concept and a straightforward navigation system no layers, one-function physical controls, and all digital controls can be accessed through just two main display screens lets you focus in on any operation directly and instantly. In fact, the entire 32-channel or 48-channel console can quite easily be operated from the 44.2-centimeter-wide (that's a little over 17 inches) Centralogic? section alone.
Yamaha
Since 1887, when it began producing reed organs, the Yamaha Corporation in Japan (then Nippon Gakki Co., Ltd.) has grown to become the world's largest manufacturer of a full line of musical instruments, and a leading producer of audio/visual products, semiconductors and other computer related products, sporting goods, home appliances and furniture, specialty metals, machine tools, and industrial robots. Yamaha now owns 59 subsidiaries and affiliates in overseas markets in addition to numerous related companies in Japan. Additionally, Yamaha owns and runs its unique resort facilities throughout Japan so as to enhance our customers' leisure and cultural activities. Also, Yamaha provides a place for studying music, sets opportunities for presenting one's own compositions, and creates an environment for the enjoyment of a variety of musical endeavors. Since Yamaha Music Foundation was established in 1966, it has generated a wide range of music activities throughout global society, including Yamaha music schools, and the Junior Original Concert. Strong commitment to promote and support music education and popularization is one of the most significant elements to distinguish Yamaha from its competitors. Yamaha has endeavored to produce products and services that satisfy the diverse needs and desires of people worldwide. Its products and services are recognized the world over for superior quality in acoustics, design, technology, craftsmanship, and customer oriented services. These products and services under the brand name of Yamaha are highly regarded by a large number of professionals, institutions, business people within the related industries, and consumers. Our corporate philosophies are embedded in our customer oriented management and operations; providing excellence in our products and services; continuous efforts to expand our existing market and create new markets; enhancement of research and development on a long range perspective; commitment to care for end users through providing even better service after sale; pursuit of further globalization of Yamaha's business; fostering positive growth through diversification. Yamaha's very basic corporate objective is reflected in everything that it does, which is to contribute to the enrichment of the quality of lives for people around the world.
Used Digital Mixing Consoles
Audio mixers, or sound consoles, are electronic sound mixing boards used to combine two or more audio signals, before directing them to the output channels connected to the device. Sound consoles do a great deal more than just combining different audio signals they allow users to optimize the sound output in a number of ways adjusting various sound levels, enhancing sound with special effects and equalization etc, allowing for unmatched control over the end product.
M7CL-48 - M7CL-48 in great condition.
M7CL-48 - M7CL-48 with flight case in great condition. Previously used in rentals.
M7CL-48 - (1) M7CL-48, (1) MB7CL, and (1) Flight case in good condition, previously used on rentals.
M7CL-48 - Clean, M7CL48 pulled from a church installation.
M7CL-48 - M7CL-48 in great condition. Previously used in a church installation.
M7CL-48 - Used on various rentals. Comes with a 10 day warranty. 48 channels.
M7CL-48 - All in very good condition. All has been perfectly safe in the seller's storage. Very good condition...
M7CL-48 - M7CL-48 with flight case in good condition. Previously used in rentals.
M7CL-48 - M7CL-48 in excellent condition.
M7CL-48ES - Yamaha M7CL48-ES with flightcase, meterbridge, and (3) SB168 racks.
M7CL-48 - Used on various rentals. Excellent condition.
M7CL-48 - M7CL in excellent condition, from 2011.
M7CL-48 - M7CL-48 in great condition.
M7CL-48 - Corporate used M7CL-48 in excellent condition.
M7CL-48 - M7CL-48 with Meterbridge
M7CL-48 - M7CL-48 with flight case in great condition; previously used on rentals.
M7CL-48 - M7CL-48 in great condition.
M7CL-48 - 48 channel Yamaha M7CL digital audio console.
M7CL-48 - M7CL-48 with flight case in good condition. Previously used on rentals.
M7CL-48 - M7CL-48 with flight case in good condition, previously used on rentals.
M7CL-48 - Includes meter bridge, Heavy Duty ATA
M7CL-48 - Clean, corporate used M7CL-48, in great condition.
M7CL-48 - In like new condition. 48 channel version with a 3 mixing console equiped for ethersound.
M7CL-48 - Used as a demo unit. Will ship in protective cardboard.
M7CL-48 - M7CL-48 in good condition.
M7CL-48 - Unit in good condition. 48 Channels. 7 Day warranty.
M7CL-48 - In very nice condition. Like new. Comes with a single case.
M7CL-48 - Corporate used M7CL-48 with flight case in great condition.
M7CL-48 - Great Condition with Doghouse
M7CL-48 - M7CL-48 with Meter Bridge in excellent condition.
M7CL-48 - M7CL-48 with flight case in great condition, previously used on rentals.
M7CL-48 - 48 channel with Big Ben world clock in case.
M7CL-48 - M7CL-48 in excellent condition.
M7CL-48 - M7CL-48 with case in good condition previously used on rentals.
M7CL-48 - M7CL-48 in excellent condition.
M7CL-48 - This M7CL-48 has Been Used Only a Few Times, and Comes with an Extremely High Quality Road Case.
M7CL-48 - Clean M7CL-48 from a church installation. Power cord, dust cover. Well maintained with updated firmw...
M7CL-48 - Excellent condition. Used for corporate rentals. 30 day warranty.
M7CL-48 - Used on various rentals. In excellent condition.
M7CL-48 - M7CL-48 with Doghouse in good condition.
M7CL-48 - M7CL-48 in excellent condition, from 2012.
M7CL-48 with Meterbridge - Corporate used M7CL-48 in excellent condition.
M7CL-48 - Corporate used M7CL-48 with flight case, meter bridge, and MY16AT-CA I/O Card in excellent condition...
M7CL-48 - Corporate used M7CL-48 in great condition.
M7CL-48 - M7CL-48 in great condition. Previously used on rentals.
M7CL-48 - M7CL-48 with flight case in great condition. Previously used on rentals.
M7CL-48 - Includes meter bridge, Heavy Duty ATA
M7CL-48 Meter Bridge (meter bridge only) - In like new condition. Has not been used and will ship in protective cardboard.
M7CL-48 - Used on various tours. In mint condition.
M7CL-48 - Brand New in the Box !
M7CL-48 - Very clean unit in great condition.
M7CL-48 - 48 channel digital console. Cleaned and tested. Very little usage.
M7CL-48 - Demo Unit - 48 Channel Digital Console
M7CL-48 - Includes external meter bridge, Heavy Duty ATA
M7CL-48 - 48 channel in mint condition. In original cardboard. Used only four times
M7CL-48 - Comes with Apogee Big Ben word clock, Aviom A-net card and MY8-AT card. Used in a church install.
M7CL-48 - From 2008