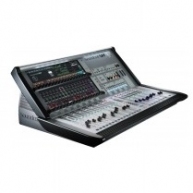 With the Soundcraft Vi Series now firmly established as a firm favourite digital desk on both the touring, broadcast and installed sound scenes, Soundcraft have taken this amazing platform to another, more affordable level with the release of the new Vi1 console.

Many users have asked for a smaller, lower-priced desk that still has the acclaimed VistonicsTM user interface, and of course the now-legendary optimal sound quality established with the Vi Series.

So here it is, the Soundcraft Vi1?.

A complete standalone console package with 32 channels of analogue input to 27 analogue outputs, plus 6 digital inputs, 4 Stereo FX Returns and 6 digital outputs in one chassis. As standard, Input to mix capacity is 46chs, but by adding a stagebox (compatible with the existing Vi racks), simultaneous channel count increases to 64. Channels are routable to 24 multifunction busses, plus LR and Mono Mix busses.

Up to 8 of the busses can be configured as Matrix mixes, each with up to 16 sources.

The surface is just over a metre wide, and includes 16 motorised channel faders with fixed and user-definable layers, 8 output/VCA faders and 2 master faders.

What's really cool about the Vi1 though, is the new Widescreen Vistonics interface, which will be instantly familiar to anyone who's driven a Vi6 or Vi4, as well as retaining the same 'walk-up' user-friendliness of the other Vi consoles. This new development displays all parameters for 16 channels side by side, on a single 22" Vistonics touch screen. The upper half of the screen handles the Output section control as well as Cue List or Menu displays. Parameter control is via two rows of 16 rotary encoders. Exactly the same channel functionality as the Vi6 and Vi4 is available here, along with all the same core snapshot, talkback and monitoring facilities.

Naturally, the Vi1 inherits many of the facilities of its larger siblings, including Soundcraft FaderGlow?, 4 stereo Lexicon effects engines, BSS Audio graphic EQs on all output busses, and integral dynamics on all channels.

The desk is compatible with Vi4 and Vi6 show files through the Virtual Vi offline editor, which is available as a free download.

As you'd expect, the price of the Vi1 is extremely attractive, which is sure to make it a clear winner with engineers and sound companies.
Soundcraft
Founded in 1973, Soundcraft first made its mark with the launch of the Series 1, the first mixing console in a flightcase. Back in the early 70's, the music touring business was just beginning - and the transportable mixing desk quickly became popular among the bands and the new PA companies that were springing up to rent out sound equipment. From what was then a small company in central London, Soundcraft expanded and started to diversify. The company designed a mixer for recording - the Series 2 - and began to build a reputation for great-sounding desks, which is often referred to as the favoured 'British Sound'. Design and innovation has always been one of Soundcraft's major strengths. Over the years it has introduced a number of industry-favoured consoles such as the Series 4, 2400, TS24, 8000, 200B, 6000, Delta, SAC200 and the Spirit Folio range, and more recently the Series FIVE, FIVE Monitor and Broadway. Today Soundcraft has a network of 88 distributors selling and supporting its products world-wide. Part of the Harman Pro Group, Soundcraft is still very much the dedicated professional mixing console designer and manufacturer it was back in 1973. It now boasts a range of mixers which are designed for use in live sound, recording, post-production, TV and radio production and disco applications. Harman is an international company which comprises a group of dedicated manufacturers of audio equipment spanning professional audio, in-car systems, multimedia and hi-fi consumer products.
Used Digital Mixing Consoles
Audio mixers, or sound consoles, are electronic sound mixing boards used to combine two or more audio signals, before directing them to the output channels connected to the device. Sound consoles do a great deal more than just combining different audio signals they allow users to optimize the sound output in a number of ways adjusting various sound levels, enhancing sound with special effects and equalization etc, allowing for unmatched control over the end product.
Vi1 - Corporate used Vi1 with flight case in excellent condition.
Vi1 - Vi1 with flight case in great condition. Previously used on various rentals.
Vi1 - Console was used locally never a touring desk. Corporate work.
Vi1 - Comes with a roadcase, dual PSU and a 30 day warranty.
Vi1 with CAT5 48/24 Stagebox - Vi1 in excellent condition. Previously used on a demo.
Vi1 - 56 + 24 channel. Used on various rentals.
Vi1 - Vi1 in great condition.
Vi1 - Corporate used Vi1 with flight case in excellent condition.