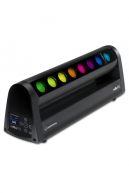 ROLLAPIX 100 is the first motorised linear LED luminaire fitted with a 4:1 double zoom system (patent pending). This new generation of luminaires was designed for the entertainment industry in collaboration with a famous French lighting designer and it offers all the new features of 4G technology. The distinctive characteristic of the ROLLAPIX 100 is to integrate 8 independent 10-Watt RGBW LEDs teamed with two zoom systems, which can be controlled separately in order to create a multitude of diverse effects.
Ayrton
Used LED Wall Washers
Find used LED pars, wall washers and more from top brands such as Color Kinetics, Chauvet, Martin Professional and Elation. All products come with warranties and are tested before shipping to you. Solaris sells and buys secondhand and used LED strips, pars and more for event production, houses of worship, concert and theaters. If you do not find what you are looking for give us a call and we will quickly find it for you.