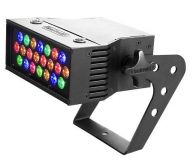 PixelLine Micro W is a RGBA micro batten featuring 24 high intensity Cree LED's. Offering exceptional colour washing capabilities, it is ideal for lighting stages, backdrops, sets, cycs and structures. The vast LED colour palette can create pretty pastels or deep saturated hues. IP20 rated, outstanding longevity, very low power consumption and can be floor or Truss mounted.
PixelRange
James Thomas Engineering Ltd began February 1977 in a small garage located in Bishampton, England. James Thomas and John Walters engineered and built the first spun aluminum Par Lantern which became the industry standard. The company then moved to Pershore in 1978 and started manufacturing truss. Soon the General Purpose Truss was born. The total product range began to expand with additional sizes of Par Lanterns, Lighting Bars, Par 36 Spot Banks, Pinspots and other sizes of General Purpose Truss. In 1983, JTE developed the original pre-rigged truss system which was used by a major rock band on their world tour. In 1984, the company relocated to a 10,000 square foot factory at Station Approach, Pershore. The first Ground Support Tower System was also developed that year. Then in July 2000, the UK office moved to a 52,700 square feet facility with additional welding facilities, shipping warehouse, electrical department, drawing office, and administrative offices. Meanwhile in 1990, JTE began manufacturing in the USA to allow simultaneous production of truss on both sides of the Atlantic. This operation continued to expand and now occupies 15,000 square feet of space. In 1992, the Supertruss system was designed and has proved that the innovative skills at JTE still lead the way in the industry. In 1996, the company started production of the Baby Tower. In October 2001, the US office relocated to a new purpose built facility providing 30,000 square feet on a 6.28 acre site. This has allowed JTE to continue to offer the service the industry requires. Determined to maintain their position as market leaders, the team at JTE has spent the last few years developing new products, and conducting considerable market research into the advantages and uses of LED lighting. PixelRange was born in 2002 and has developed in to the comprehensive range of fixtures that it is today.
Used LED Wall Washers
Find used LED pars, wall washers and more from top brands such as Color Kinetics, Chauvet, Martin Professional and Elation. All products come with warranties and are tested before shipping to you. Solaris sells and buys secondhand and used LED strips, pars and more for event production, houses of worship, concert and theaters. If you do not find what you are looking for give us a call and we will quickly find it for you.