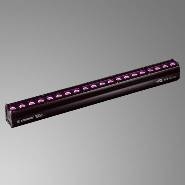 KEY FEATURES:

? Ideal digital substitute of the analog strip light
? 75% to 82% energy saving compared to traditional technology at the same brightness
? Cosmetic design for hi-end installations
? Thick aluminum, long lasting light source in long lasting body
? Variable light projection angle to adapt to the application
? No fan, no maintenance, no noise
? ETL approved
? Power and data in and out
? Internal/external gel frame for diffusion filters
SPECIFICATIONS:
? RGB+White color mixing
? Standard lens 12deg/35deg
? Electronic dimmer
? Electronic Strobe, synchronized, random, Pulse effect
? Flicker free
? Quick camlock clamps, on a modular guide with adjustable position
PHYSICAL SIZE:
? Length: 1000 mm (39,4 in )
? Width: 152 mm (6.0 in)
? Height: 95 mm (3.7 in)
? Weight: 7.7 kg (17.0 lbs)
LIGHT SOURCE:
? 10 Seul leds (RGB), 3.2 W each, and 10 Luxeon leds (White 3200 Kelvin), 3.2 W each
CONTROL PROTOCOL AND PROGRAMMING:
? USITT DMX512/1990
? Dmx channels: 10
? Setting and addressing: binary dip switch or remotely
ELECTRICAL SPECIFICATIONS/CONNECTIONS:
? AC power: 90-250 V, auto sensing, 50/60 Hz, 2m (6.6 ft) integral cable with PowerCon connector without power plug
? Power consumption: 0.5 A at 230 V, 1.1 A at 115 V
? DMX data in/out: 3 pin and 5 pin locking XLR
AVAILABLE VERSIONS:
? Color mixing system: RGB / RGB+white 3200 K
? Length mm: 500/610/800/1000/1220 mm (19.7 / 24.0 / 31.5 / 39.4 / 48.0 in)
? Protection rating: IP20 - IP65
? Ndeg led: 10/12/20/24
OPTIONS:
? 2 ground-standing feets (# 8052)
? Frame for internal filter (#8054/2)
? Frame for external filter (#8055/2)

Coemar
Founded in 1933, Coemar Spa is a developer, manufacturer, and seller of lighting products and industry innovation for entertainment, architectural, and commercial applications, guaranteeing unique professional pre-sale and post-sale services. Coemar, whose headquarters are based in Castel Goffredo (MN), Italy, has grown to over 400 employees/associates around the globe, with distribution throughout almost 70 countries. COEMAR USA (formerly Tracoman Inc.) was formed for its second run in 1999 by industry veteran GERARD COHEN, who initially struck gold with Tracoman Inc. the first time around.
Used LED Wall Washers
Find used LED pars, wall washers and more from top brands such as Color Kinetics, Chauvet, Martin Professional and Elation. All products come with warranties and are tested before shipping to you. Solaris sells and buys secondhand and used LED strips, pars and more for event production, houses of worship, concert and theaters. If you do not find what you are looking for give us a call and we will quickly find it for you.