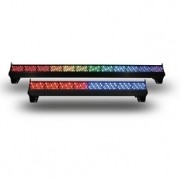 The Chroma-Q Color Force LED batten range is a brute of a light. The super bright fixture easily washes up to 8m / 26 foot. In addition, the RGBA LED engines provide a radically increased colour palette, together with a high CRI of 92 and theatrical grade dimming, all in the same fixture.
Key Features

High CRI of 92
Theatrical grade dimming
Extremely smooth, uniform wash
Massive output across the spectrum
Radically increased RGBA colour palette
Super bright fixture, easily washes up to 8m / 26 foot
Saturate and pastel colours available from a single fixture
Choice of 1.8m / 6 foot (72) and 1.2m / 4 foot (48) lengths
Chroma Q
The new Chroma-Qâ?¢ Plus colour changer builds on the great success of the Original colour changer and adds new, advanced features, while maintaining the affordable price. With over 30,000 units sold worldwide, the Original's industry proven performance and reliability is combined in the Chroma-Qâ?¢ Plus with new electronic features, increased capacity and other enhancements - providing even greater flexibility and usability.
Used LED Wall Washers
Find used LED pars, wall washers and more from top brands such as Color Kinetics, Chauvet, Martin Professional and Elation. All products come with warranties and are tested before shipping to you. Solaris sells and buys secondhand and used LED strips, pars and more for event production, houses of worship, concert and theaters. If you do not find what you are looking for give us a call and we will quickly find it for you.
Color Force 72 - Package of (6) Color Force 72 in great condition. Previously used on rentals.