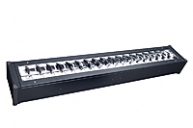 The Stage Cyclo is an RGB, fluorescent color-changing luminaire that provides soft, even illumination for stage applications. Simple to use, powerfully bright and absolutely noiseless, the Stage Cyclo is also ideal for TV studio and theater sets.
Martin Professional
Martin is the maker and distributor of entertainment control and intelligent lighting and effects. Martin uses the latest technologies to create these amazing machines for the entertainment industry. Martin is also a maker of high end sound systems known as
Used LED Wall Washers
Find used LED pars, wall washers and more from top brands such as Color Kinetics, Chauvet, Martin Professional and Elation. All products come with warranties and are tested before shipping to you. Solaris sells and buys secondhand and used LED strips, pars and more for event production, houses of worship, concert and theaters. If you do not find what you are looking for give us a call and we will quickly find it for you.
Stage Cyclo - Stage Cyclo 208-250V. In good working order.
Stage Cyclo - Used on various rentals.
Stage Cyclo - Package of (2) Stage Cyclo in great condition, previously used on an installation.
Stage Cyclo 110V - Stage Cyclo. 110V. 60Hz. In great working order.
Stage Cyclo - 1200w. Will be protected before shipping.