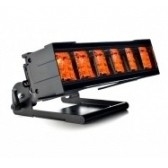 The new Stagebar 54 is a compact, powerful LED luminaire with a comprehensive color range, all-in-one simplicity and a tough temperament for the touring market. It functions as a pixel bar for displaying imagery and video or as a wash luminaire for floodlighting surfaces and stages
Martin Professional
Martin is the maker and distributor of entertainment control and intelligent lighting and effects. Martin uses the latest technologies to create these amazing machines for the entertainment industry. Martin is also a maker of high end sound systems known as
Used LED Wall Washers
Find used LED pars, wall washers and more from top brands such as Color Kinetics, Chauvet, Martin Professional and Elation. All products come with warranties and are tested before shipping to you. Solaris sells and buys secondhand and used LED strips, pars and more for event production, houses of worship, concert and theaters. If you do not find what you are looking for give us a call and we will quickly find it for you.
Stagebar 54 Short - Stagebar 54 shorts. In great working order.
Stagebar 54 - Sold in packages of (8) Stagebar 54 short. Comes with an (8) way case.