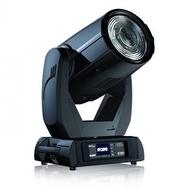 Encompassing all the new technologies develeoped for the MMX Spot, the WashBeam provides the lighting designer with a huge range of features and effects in a single fixture.

The Phillips Platinum 35 light source together with the Robe MMX optical system, produces a light output exceeding most traditional 1200 W products. Robin MMX WashBeam uses innovative internal motorized barndoors module for creating different unique shapes and chases, in the which also simulates barndoor effects. The module consists of four individually controllable blades and is rotatable by 180 degrees. With the change of a lens, the WashBeam switches from a super-fl at, even wash - extendable out to 54 degrees into a tight 3 degree Beam effect machine - both options retaining all the key performance features of the MMX family - including full CMY colour mixing, saturated colour wheel, variable CTO, variable Hot-Spot control, motorised Zoom & Focus and Rotating indexable glass Gobos - all adding up to a real advantage over other existing Beam products.
Robe
Robe Show lighting . Manfuacturer of high quality Intelligent Lighting systems and products. ROBE Lighting, Inc. Headquarters: 13807 N.W. 4th Street, Sunrise, Florida 33325 Tel.: (954) 615-9100 Fax: (954) 615-9105
Used LED Wall Washers
Find used LED pars, wall washers and more from top brands such as Color Kinetics, Chauvet, Martin Professional and Elation. All products come with warranties and are tested before shipping to you. Solaris sells and buys secondhand and used LED strips, pars and more for event production, houses of worship, concert and theaters. If you do not find what you are looking for give us a call and we will quickly find it for you.