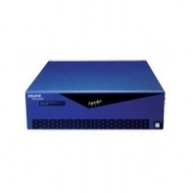 The power and flexibility of Vistas video switchers
and real-time windowing and composition
products combined with the power, performance
and reliability of award-winning Christie
projection systems ensures that whatever you
visualize your Christie Solution can display it.
Vista Systems switchers have become the
industry standard for live multiple-destination
video and data mixed signal switching.
Modularity allows you to mix and match
Perhaps the best thing about the Spyder system
is its incredible versatility. Between the 200
and 300 Series, there are more than 10 different
models to choose from, all of which are perfectly
compatible and configurable with each other.
You can create almost any size system you
need, depending on your budget, and the
demands of your particular event. Choice is
the operative word made possible through
the modular design that allows you to link
together the optimum number of inputs,
outputs and processors.
With processing this easy,
everyone will be doing it
Spyders intuitive user interface allows you
to perform even the most complex tasks with
simplicity and ease. Start by building virtual
displays inside your computer that are truly
independent of the number of outputs you use.
Mix any input anywhere on any display and
create a variety of motion effects and controls
using simple keyframes to plot the movement.
While youre at it, create any kind of window
border or drop shadow with adjustable color,
width, softness, shadow offset and transparency.
It is easy!
And, we havent even mentioned Spyders
wide-screen capabilities. Outputs which can
be projectors, LED walls, video walls, Recording
devices, operator Monitors, and the like can
overlap horizontally or vertically with 10-bit edge
blending and user-definable blend regions that
define the words seamless and awesome.
Input formats
Analog RGB (SOG, Composite or Separate Sync)
Analog YUV
SDI
HD-SDI
DVI
DVI-Dual
Analog Composite (optional)
S-video (optional)
Output formats
(24p, NTSC, PAL, and SECAM
frame rates supported)
Analog RGB (SOG, Composite or Separate Sync)
Analog YUV
SDI
HD-SDI
DVI
DVI-Dual
DVI-Twin (10-bit DVI)
Analog Composite (optional)
S-video (optional)
Christie Digital
Christie a global visual technologies company, offers diverse solutions for business, entertainment, and industry. With expertise in film projection since 1929 and professional projection systems since 1979, we've established a reputation as the worlds single source manufacturer of a variety of display technologies and solutions for cinema, large audience environments, control rooms, business presentations, training facilities, 3D and virtual reality, simulation, education, media and government. As a market leader, Christie has installed over 100,000 projection solutions worldwide. Christie technologies Christies broad range of technologies include DLP Cinema projectors, LCD and DLP projectors, rear screen projection modules, video walls, and cutting edge projection technologies for 3D, virtual reality and simulation. Whatever the application, our solutions are purpose-built to meet unique projection requirements, and are backed by industry-leading service and support ensuring complete customer satisfaction. Global organizations use Christie's visual solutions Many of the worlds most demanding organizations rely on Christie for their display solutions, including AMC Theaters, AT&T Global Network Operations Center, Boeing, Buckhead Community Church (Atlanta, Georgia), Carlton Screen Advertising (UK), Cinemark, China Film Group, Dallas Police, Connecticut Light & Power, Deluxe, Deutsche Telekom, First Baptist Church of Orlando, Georgetown University, General Motors, Harrods', Industrial Light & Magic, Italian Army, Italian Railways, Japans National Institute for Fusion Science, Microsoft, Loews, Montreal Police, Paramount Parks Star Trek Borg Invasion 4D, Pixar Animation Studios, Regal CineMedia Corp., Scripps Network, Shell, Shenzhen Telecom, Sinopec (China), Sony Picture Studios, Starbucks, Taiwan Air Force, Toronto Stock Exchange (TSX), Tulane Universitys A.B. Freeman School of Business, University of Illinois, Urbana and Wharton School of Business.
Used Video Processors and Mixers
A video processor, sometimes called a vision mixer, is used for professional compositing of video sources or the selection of video sources, in a similar fashion to the way audio streams are mixed and matched with a mixing console. This video processor technology is normally used in TV studios, video editing bays and production trucks or studios, in the production of TV shows, theatrical shows and concerts. Video processor is actually a term more commonly used in the United States â?? in Europe and other English speaking countries, the terms video or vision mixer are preferred. The operator of a video processor will generally be called a technical director in all countries however. The technical director will use the video processor to generate multiple transitions of video sources, such as pattern swipes or dissolves. The video processor can also be used to create color signals (or mattes) and carry out keying operations. As such, most video processors are geared towards professional use, and feature either a Serial Digital Interface (in the case of digital models) or component video connections (in the case of analog models). A digital video processor is normally used for linear video editing in live TV, in conjunction with video servers and video tape recordings. For other uses, such as video presentations, VJing and small productions involving the use of multiple cameras, an analog video processor is still fairly common.