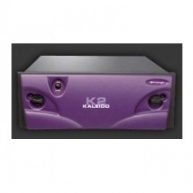 The KALEIDO-K2 Ultra High Resolution Virtual Monitor Wall Processor is designed as the ultimate solution to signal
monitoring requirements. It accepts inputs in many standard formats; each input is equipped with its own advanced
de-interlacing and scaling engine for highest display quality. Internal processing is handled at 1600x1200 pixel
resolution, and each input can be scaled between 1/16 of its original size and the full 1600x1200 screen. Graphic
Elements are keyed with one-pixel precision.

Miranda
Used Video Processors and Mixers
A video processor, sometimes called a vision mixer, is used for professional compositing of video sources or the selection of video sources, in a similar fashion to the way audio streams are mixed and matched with a mixing console. This video processor technology is normally used in TV studios, video editing bays and production trucks or studios, in the production of TV shows, theatrical shows and concerts. Video processor is actually a term more commonly used in the United States â?? in Europe and other English speaking countries, the terms video or vision mixer are preferred. The operator of a video processor will generally be called a technical director in all countries however. The technical director will use the video processor to generate multiple transitions of video sources, such as pattern swipes or dissolves. The video processor can also be used to create color signals (or mattes) and carry out keying operations. As such, most video processors are geared towards professional use, and feature either a Serial Digital Interface (in the case of digital models) or component video connections (in the case of analog models). A digital video processor is normally used for linear video editing in live TV, in conjunction with video servers and video tape recordings. For other uses, such as video presentations, VJing and small productions involving the use of multiple cameras, an analog video processor is still fairly common.