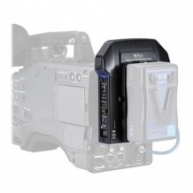 The IDX CW-5HD Cam-Wave HD is a wireless transmitter and receiver designed to connect HD Video Cameras to either a monitor or Recording device. The system produces an uncompressed signal without the need to run any pesky Cables, at a range of up to 150'. The transmitter can run off 1 V-Mount series battery or function off DC power through its 4-pin XLR input. Weighing in at a little over 1.8 lbs, the CW-5HD provides premium high definition wireless support without adding additional bulk to the entire camera.

Uncompressed Wireless Signals
The CW-5HD transmits pristine video from either SD-SDI or HD-SDI, producing a completely uncompressed signal. The signal can then be fed into a field monitor, studio monitor, or Recording deck. Additionally, video signals can be transmitted with 256-bit encryption, making sure there are no "prying eyes".
Instant Transmission
The CW-5HD has less than a 1ms latency between transmitting and receiving.
IDX
IDX PRODUCTS SET THE STANDARD FOR PROFESSIONALS WORLDWIDE IDX is the premier manufacturer of Lithium Ion battery power systems, HD wireless transmission solutions, V-Mount technology and more to the broadcast, professional video, audio and portable electronics industry. Our mission is to develop power products that professionals can use with confidence and convenience. Offering the highest quality of product, innovation and service allows our customers to operate their equipment as expected and concentrate on creating and capturing. As pioneers in the use of Lithium Ion, IDX was the first to produce Lithium Ion NP batteries to meet the needs of camera users who demanded more power and less battery weight. IDX built on that award-winning Lithium Ion NP success by introducing the ENDURA System, with revolutionary features such as PowerLink—the exclusive ability to stack a second battery and double the power. A higher capacity and high performance model followed with the 136Wh ENDURA ELITE. The evolution continues with the introduction of the E-HL9 Series featuring high draw and excellent performance in a range of environments. IDX provides true global power and ENG solutions. We are committed to our customers with a sales support and service program second to none through our locations in Europe, the Middle East, Japan and the Americas. With a network of sales associates worldwide, we provide our customers with sales and technical assistance as well as service support and answers for their applications. From our award winning battery systems to the ground-breaking wireless HD video transmission system, you can be confident that IDX and its products will continue to meet the ever-changing demands and challenges of our industry. All IDX products are designed to international safety, EMC and environmental specifications and standards including IATA/DOT travel requirements. IDX power system products address today's challenges with advanced technology, rugged design and reliable performance. You can be sure that any IDX product you choose will stand the test of time. CORPORATE DEVELOPMENT 1989 Establishes in Tokyo, Japan, to develop and manufacture batteries for broadcast video. 1993 Head office moves to Kawasaki City, Japan. 1994 IDX System Technology, Inc. is established in San Diego, U.S.A. and IDX Technology Europe, Ltd. is established in London, England. 1996 Introduction of the NP-L40 battery, the world's first Lithium Ion NP battery. 1998 IDX opens a service center at the 1998 Nagano Olympics. 1999 Establishes IDX Taiwanese Office. 2000 Launches the ENDURA System with the ENDURA-50. 2002 IDX USA moves to Torrance, California. 2003 IDX HQ Shipment and Logistics Center is established. 2004 BMS Battery Management System is introduced and IDX HQ moves to current site in Kawasaki, Japan. 2005 IDX Company, Ltd. acquires ISO 14001 accreditation and establishes IDX Hong Kong office. Analog wireless video transmission system is developed. 2007 Development of the ENDURA ELITE, our highest capacity ENDURA battery. IDX Europe moves to Langley, England. 2008 Introduction of HD wireless video transmission system CW-5HD. IDX USA relocates to new Torrance facility. 2009 IDX unveils LED on-board light X5-Lite, and E-HL9 Series batteries; ENDURA ELITE expands protocol compatibility. 2010 V-Mount product advancements include power base EB-424L, wireless mount A-MWR and shoulder adaptor A-CA74E. 2011 Expansion of V-Mount P-V2 Plate Series allowing 12V down-conversion for small profile camcorders & HDSLR systems. 2012 CW-1 Wireless HDMI Transmission System is added to IDX lineup of Wireless HD Transmission Systems and IDX receives letter of quality assurance certification from Sanyo/Panasonic. 2013 IDX introduces CW-7 Wireless HD-SDI Transmission System, DUO-series batteries, and ET-PV2BM & A-E2EOSC V-mount Adaptor plates for popular Canon and Blackmagic camcorders. 2014 IDX celebrates its 25th anniversary with addition of CUE series batteries, high load capable E-HL10DS battery, & CW-3 Wireless 3G-SDI Transmission System.
Used Video Processors and Mixers
A video processor, sometimes called a vision mixer, is used for professional compositing of video sources or the selection of video sources, in a similar fashion to the way audio streams are mixed and matched with a mixing console. This video processor technology is normally used in TV studios, video editing bays and production trucks or studios, in the production of TV shows, theatrical shows and concerts. Video processor is actually a term more commonly used in the United States â?? in Europe and other English speaking countries, the terms video or vision mixer are preferred. The operator of a video processor will generally be called a technical director in all countries however. The technical director will use the video processor to generate multiple transitions of video sources, such as pattern swipes or dissolves. The video processor can also be used to create color signals (or mattes) and carry out keying operations. As such, most video processors are geared towards professional use, and feature either a Serial Digital Interface (in the case of digital models) or component video connections (in the case of analog models). A digital video processor is normally used for linear video editing in live TV, in conjunction with video servers and video tape recordings. For other uses, such as video presentations, VJing and small productions involving the use of multiple cameras, an analog video processor is still fairly common.