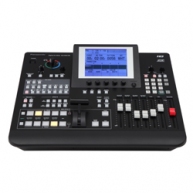 This affordable, highly versatile unit integrates a HD/SD Video Switcher, audio mixer, MultiViewer and control panel in a single, compact unit. The HMX100 features a built-in MultiViewer output and combines high-quality video switching with embedded or analog audio mixing functions. It offers a very flexible user interface and supports SD, HD formats, plus switching of 3D sources. It's ideal for use in schools, hotels, government facilities, corporations, public access channels, live events and weddings, and in mobile or portable applications.

The multi-format, high-quality switcher/mixer is designed to support multiple camera workflows. The AG-HMX100 also includes the ability to switch 3D HD video sources, making it the first affordable live switcher for use in 3D production.
Panasonic
Used Video Processors and Mixers
A video processor, sometimes called a vision mixer, is used for professional compositing of video sources or the selection of video sources, in a similar fashion to the way audio streams are mixed and matched with a mixing console. This video processor technology is normally used in TV studios, video editing bays and production trucks or studios, in the production of TV shows, theatrical shows and concerts. Video processor is actually a term more commonly used in the United States â?? in Europe and other English speaking countries, the terms video or vision mixer are preferred. The operator of a video processor will generally be called a technical director in all countries however. The technical director will use the video processor to generate multiple transitions of video sources, such as pattern swipes or dissolves. The video processor can also be used to create color signals (or mattes) and carry out keying operations. As such, most video processors are geared towards professional use, and feature either a Serial Digital Interface (in the case of digital models) or component video connections (in the case of analog models). A digital video processor is normally used for linear video editing in live TV, in conjunction with video servers and video tape recordings. For other uses, such as video presentations, VJing and small productions involving the use of multiple cameras, an analog video processor is still fairly common.