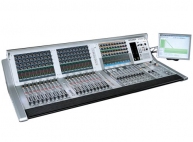 Continuing the successes of the Vista 5, 6 , 7 and 8 in the broadcast and fixed install markets, Studer now brings this fail-safe and intuitive technology to the tour sound market.

While retaining the renowned qualites of the Vista 5, the Vista 5 SR is the result of careful re-engineering to provide a road-ready, robust package.

Most obviously a steeper angle of the Vistonics? screens has been introduced. This provides a more direct viewing angle when operating in a standing position particularly in daylight. In addition to this, we have introduced a new temperature control system an industry first when applied to the redundant layout of control system cooling making the Vista 5 SR completely reliable in the very broad temperature ranges of its sound reincorcement applications.

Furthermore, console illumination being integrated into the desk and ultra bright LED buttons means the console can be operated equally well in dark as well as bright environments. Proven flash memory is used instead of hard disk drives and redundant powersupplies as well as optional redundant audio and control links make the Vista 5 SR a heavy-duty system engineered for the road.

For product availability and pricing please contact your local dealer.
Studer
The Swiss based company Studer is one of the leaders worldwide for professional audio. Founded by Willi Studer in 1948, over the years the company and its brand name Studer became synonymous for broadcasting and recording equipment. Today Studer is able to offer solutions for nearly every application in the field of Professional Audio. Studer products are invented and manufactured in Regensdorf / Switzerland. The product range includes equipment and systems for TV / Radio Broadcast, Recording and Production Studios, or 19" components for system applications.
Used Digital Mixing Consoles
Audio mixers, or sound consoles, are electronic sound mixing boards used to combine two or more audio signals, before directing them to the output channels connected to the device. Sound consoles do a great deal more than just combining different audio signals they allow users to optimize the sound output in a number of ways adjusting various sound levels, enhancing sound with special effects and equalization etc, allowing for unmatched control over the end product.