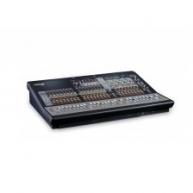 Get the amazing sound quality and rock-solid reliability of VENUE all in one compact console. VENUE SC48 is a fully integrated live sound system that combines all I/O, digital signal processing, and tactile control into a single console, making it the most affordable and portable VENUE system yet. The console not only features the celebrated characteristics of VENUE, including studio-quality plug-in support, seamless integration with Pro Tools LE systems, and complete show file portability, it offers several innovative new workflows that streamline the mixing process, allowing you to concentrate on mixing the show instead of operating the board.

Features
Fully integrated console offers built-in I/O for stage and ancillary sources, DSP, and tactile control for ultimate portability
Compact footprint fits small- to mid-size clubs, houses of worship, theaters, corporate events, and more
First-rate VENUE sound quality provides amazing audio clarity in any room
Supports professional audio plug-ins for creating studio-quality mixes live
Pro Tools LE FireWire interface and software included for audio Recording and playback system connection
VENUE D-Show software, the industry's easiest, most comprehensive control software
48 analog mic/line XLR inputs, 16 analog line outputs (expandable to 32)
Single expansion slot for maximizing output count or adding A-Net connectivity
16 Aux Sends, 8 Groups, plus 8 mono matrixes (linkable as up to 4 stereo matrixes)
Choice of Left-Right plus Mono or Left-Center-Right Mains bus configuration
26 touch-sensitive, motorized faders: 16 input, 8 output master, 1 Flex Channel, and 1 Mains
16 assignable, push-switch rotary encoders with multi-segment LED rings enable immediate access to key parameters
Additional I/O, including talkback, analog and digital 2-track, GPI, MIDI, and Word Clock

Digidesign
Company developing ProTools, a software and hardware based system for audio and MIDI recording.
Used Digital Mixing Consoles
Audio mixers, or sound consoles, are electronic sound mixing boards used to combine two or more audio signals, before directing them to the output channels connected to the device. Sound consoles do a great deal more than just combining different audio signals they allow users to optimize the sound output in a number of ways adjusting various sound levels, enhancing sound with special effects and equalization etc, allowing for unmatched control over the end product.
Venue SC48 - Extra stage rack and cards available at an additional price.
Venue SC48 - Brand new units still in boxes.
Venue SC48 - In like new condition. Fully surviced.
Venue SC48 - Venue SC48 with flight case in great condition, previously used on rentals.
Venue SC48 - SC 48 Venue with Protools LE and more. Mint condition.
Venue SC48 - In like new condition. Used on corporate events.