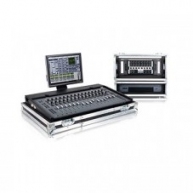 When we first introduced the head-turning S3L System, the industry took notice and soon embraced it at major festivals, clubs, and tours for the sheer sound quality, power, and mixing creativity it brought to any size performance space. And now weve made it even better. With the VENUE | S3L-X System, you get even greater versatility, reliability, and value for the stage, studio, and beyond.

Like S3L, S3L-X is a highly scalable, Ethernet AVB-networked modular system that enables you to mix and record live shows with incredible efficiency. And now with S3L-X, you can streamline FOH, monitor, and broadcast workflows by sharing the same I/O across multiple S3L-X Systems, with full automatic gain compensation. Plus, you can set up a mobile Recording/mixing studio using just the VENUE | S3 surface and Pro Tools | Software on a laptop, making VENUE | S3L-X the most versatile system in live sound.

Key benefits
Mix anything, everywherefrom major festivals to clubs with the tiniest FOH spaces
Share the same I/O across two or more S3L-X Systems, with complete auto gain tracking
Mix DAW sessions using S3 as a standalone mixing surface and 4x6 audio interface
Keep pace with the latest sound processing innovations with 64-bit AAX DSP plug-in support
Scale the modular system to accommodate any size performance, from 1664 mic pres
Get exceptional sound quality, plus reliable Ethernet AVB connectivity, without the Cable bulk
Achieve maximum performance with 2x more RAM compared to S3L
Record directly to Pro Tools (or other DAW) through a simple laptop Ethernet connection
Get great reliability for the road with the rugged, reinforced engine design
Monitor with confidence through the higher output, lower noise headphone amp

AVID
Provides information on all-digital solutions for capturing, creating, editing and distributing digital media. Avid products are used to produce films.
Used Digital Mixing Consoles
Audio mixers, or sound consoles, are electronic sound mixing boards used to combine two or more audio signals, before directing them to the output channels connected to the device. Sound consoles do a great deal more than just combining different audio signals they allow users to optimize the sound output in a number of ways adjusting various sound levels, enhancing sound with special effects and equalization etc, allowing for unmatched control over the end product.