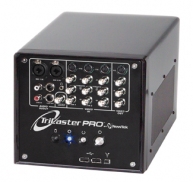 TriCaster PRO? provides a complete Portable studio and offers the flexibility to mix component, composite and S-Video camera sources. Produce your show with network-style virtual sets, balanced audio, an integrated character generator, broad file format support, increased storage and much more.

Schools, sProts teams, broadcasters, worship facilities, government agencies and many others have come to rely on the award-winning TriCaster? PRO for Portable live production and live streaming.
New Tek
Used Video Processors and Mixers
A video processor, sometimes called a vision mixer, is used for professional compositing of video sources or the selection of video sources, in a similar fashion to the way audio streams are mixed and matched with a mixing console. This video processor technology is normally used in TV studios, video editing bays and production trucks or studios, in the production of TV shows, theatrical shows and concerts. Video processor is actually a term more commonly used in the United States â?? in Europe and other English speaking countries, the terms video or vision mixer are preferred. The operator of a video processor will generally be called a technical director in all countries however. The technical director will use the video processor to generate multiple transitions of video sources, such as pattern swipes or dissolves. The video processor can also be used to create color signals (or mattes) and carry out keying operations. As such, most video processors are geared towards professional use, and feature either a Serial Digital Interface (in the case of digital models) or component video connections (in the case of analog models). A digital video processor is normally used for linear video editing in live TV, in conjunction with video servers and video tape recordings. For other uses, such as video presentations, VJing and small productions involving the use of multiple cameras, an analog video processor is still fairly common.
Tricaster - Like new Tricaster, from 2013.
Tricaster Package - Corporate used Tricaster Package in excellent condition.
Tricaster - From church install. Used in a church lighting system, one time a week for four hours.