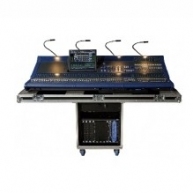 Designed for live sound touring, fixed installation, and broadcast applications, the flagship Sy80 is a powerful mixing tool featuring Innovason's unique SmartFAD technology that allows users to define the function of any fader on the console. With 80 faders, 104 channels, up to 144 outputs, 48 mixing buses and the advanced Sensoft software, the Sy80 console enables each user to define the exact configuration they need for the mix of the moment. Audio connectivity is via Muxipaire and the industry standard EtherSound protocol for maximum network flexibility. Compatible with all of the latest I/O modules and internal effects plug-ins for enhanced DSP performance, the Sy80 offers greater mixing capabilities than ever before.

Each of the 80 faders can be defined as an input channel:
Mono
Stereo
Multiple expanded fader or a mixing bus, mono, stereo or LCR:
VCA (Versatile Controlled Amplifier)
Group / Subgroup
Aux
Master
Matrix

Innovason
INNOVASON was founded in 1993 by two brothers that were enthusiastic about professional audio and digital technology. The name is an acronym from French that means '??Innovative Sound'?Ě. We design and manufacture all-digital audio mixing consoles and digital audio transmission snakes specifically for sound reinforcement applications. The company was at the forefront of two revolutionary concepts in the live sound markets: 1993 - Invention of the Muxipaire. Replacing traditional heavy copper snakes the '??Muxipaire'?Ě was the first system for the digital transmission for audio between the stage and the console via coaxial. 1996 '?? Launch of the first audionumerical console dedicated to live sound applications. 2003 - The Sy-series hits the market with two versions, the Sy48 and the Sy80. 2008 - Lawo AG takes majority shareholding in INNOVASON 2009 - The Eclipse is available as the newest innovation. Target Markets Touring: PA Rental Companies Corporate AV Rental Companies Cultural and Sporting Events Live Broadcast Feeds Fixed Installation: Theaters Performing Arts Centers Churches Places of Worship Concert Halls Theme Parks Cruise Ships Live Broadcast Control Rooms Broadcast: OB Vans Product Philosophy All systems are based on the original all-digital design philosophy and are specialized for '??live'?Ě use. All systems are completely modular. Consoles, Audio Racks, Modules and Interfaces are 100% compatible and may be configured for use in modest rental applications or extremely complex large format theater installations. Actual mixing ergonomics are the simplest available today. Even in complex audio configurations the man-to-machine interface allows for the least amount '??actions'?Ě by an operator during the actual live mixing process. The quality of sound is transparent and exceptional. Always utilizing the best mic preamp and converters, the reputation of INNOVASON audio consoles is the source of great company pride. Backwards-compatibility is a characteristic INNOVASON always engineers in new variations, revs and enhancements. With the release of various Upgrade Kits even consoles up to 10 years old may be brought up to more current specs and features. INNOVASON will always be mindful of this strategy when developing new products.
Used Digital Mixing Consoles
Audio mixers, or sound consoles, are electronic sound mixing boards used to combine two or more audio signals, before directing them to the output channels connected to the device. Sound consoles do a great deal more than just combining different audio signals they allow users to optimize the sound output in a number of ways adjusting various sound levels, enhancing sound with special effects and equalization etc, allowing for unmatched control over the end product.
SY80 - SY80 with case in great condition. Previously used on rentals.
SY80 - Very clean and in great condition from 2004. 10 day warranty.
SY80 - SY80 Verison 9 in good condition. Previously used on corporate events.
SY80 Package - This is a SY80 Package From Innovason. Has Slight Wear and Tear. From 2004. Comes with Case.
SY80 Package - Complete SY80 package.