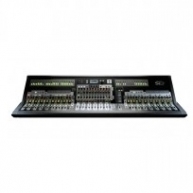 The Soundcraft Si3 is designed for live use on both touring sound systems and in fixed installations and its intuitive operation and high input and bus count makes it a perfect choice for House of Worship sound systems. Theatre users will also find the Soundcraft Si3 very applicable in their area.

Soundcraft has revisited the control topology employed on the ground-breaking Spirit 328 and 324 digital consoles, and made it even easier. The model is this - above each fader is a rotary encoder, the function of which changes according to the mode selected. This 'bank' of encoders, known as the VCS or Virtual Channel Strip can be set to control every function of a channel (known as Channel mode), so mic gain, EQ, dynamics, auxes, panning are all controlled as if you had a normal analogue channel strip laid sideways in front of you. The VCS also incorporates all the switching you would find on an individual analogue channel strip (48v, Phase Reverse, EQ In etc.). Alternatively, in what is called Global mode, each encoder controls the same function for each channel. So, for example, the encoders could control all the mic gains, pans or a chosen Aux bus (very useful for creating monitor mixes).

Soundcraft
Founded in 1973, Soundcraft first made its mark with the launch of the Series 1, the first mixing console in a flightcase. Back in the early 70's, the music touring business was just beginning - and the transportable mixing desk quickly became popular among the bands and the new PA companies that were springing up to rent out sound equipment. From what was then a small company in central London, Soundcraft expanded and started to diversify. The company designed a mixer for recording - the Series 2 - and began to build a reputation for great-sounding desks, which is often referred to as the favoured 'British Sound'. Design and innovation has always been one of Soundcraft's major strengths. Over the years it has introduced a number of industry-favoured consoles such as the Series 4, 2400, TS24, 8000, 200B, 6000, Delta, SAC200 and the Spirit Folio range, and more recently the Series FIVE, FIVE Monitor and Broadway. Today Soundcraft has a network of 88 distributors selling and supporting its products world-wide. Part of the Harman Pro Group, Soundcraft is still very much the dedicated professional mixing console designer and manufacturer it was back in 1973. It now boasts a range of mixers which are designed for use in live sound, recording, post-production, TV and radio production and disco applications. Harman is an international company which comprises a group of dedicated manufacturers of audio equipment spanning professional audio, in-car systems, multimedia and hi-fi consumer products.
Used Digital Mixing Consoles
Audio mixers, or sound consoles, are electronic sound mixing boards used to combine two or more audio signals, before directing them to the output channels connected to the device. Sound consoles do a great deal more than just combining different audio signals they allow users to optimize the sound output in a number of ways adjusting various sound levels, enhancing sound with special effects and equalization etc, allowing for unmatched control over the end product.