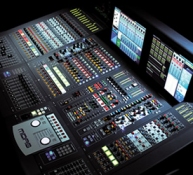 The Midas PRO6 is the second networked digital audio system from Midas and is at the heart of the PRO Series Live Audio Systems. The PRO6 can provide up to 64 simultaneous input processing channels and up to 35 discrete mixes in monitor mode, all of which feature Midas EQ and a choice of many dynamics processing options. By adding additional I/O hardware the PRO6's network can be expanded up to 288 inputs and 294 outputs. These connections can be patched and routed on a scene-by-scene basis, by use of the PRO6's powerful snapshot automation.
As with all the PRO Series the PRO6 benefits from the mix and match of all the Midas I/O box options, from the fixed configuration DL251 stage box to the highly acclaimed DL431 24 channel 5-way mic splitter. Flexibility can be further increased by adding the Klark Teknik DN9650 digital format converter offering MADI and Dante connectivity.
Users can navigate the channels intuitively without resorting to layers with the aid of Midas' VCA and POPulation groups. It naturally features the legendary and muchloved Midas sound characteristics with comprehensive choice of effects and dynamics processing, including the much-acclaimed XL8 compressor styles.
The PRO6 can to the fully-loaded at a later date to an 88-channel PRO9 with additional hardware and firmware upgrades.
Midas
Midas has been designing and manufacturing live performance mixing consoles for the worldâ??s most demanding sound engineers, performers and production rental companies since the early 1970s. The evolution of Midas consoles throughout the 30-year history of this classic marque has always paralleled, and often led, increasingly sophisticated audio innovations for the world-wide entertainment technology industry. Raising the standards of sonic quality through continual research and development has always been - and still remains - our overall aim. Equally important to us is the design and implementation of many new areas of control functionality and user-friendly desk operation to anticipate and accommodate the rapidly changing and expanding needs of audio professionals who specify Midas consoles for their major tours, festivals, international events, broadcast projects and prestigious fixed installations. The Midas design pedigree has, since our birth, been founded upon a track record of achieving a unique symbiosis with working sound engineers around the planet - engineers who respect and endorse our proven technology in the light of their responsibilities to their internationally-based clients who are themselves the leading lights of our industry.
Used Digital Mixing Consoles
Audio mixers, or sound consoles, are electronic sound mixing boards used to combine two or more audio signals, before directing them to the output channels connected to the device. Sound consoles do a great deal more than just combining different audio signals they allow users to optimize the sound output in a number of ways adjusting various sound levels, enhancing sound with special effects and equalization etc, allowing for unmatched control over the end product.
PRO6 - PRO6 touring package with flight case in good condition. Previously used in rentals.
PRO6 - PRO6 in great condition.
PRO6 Touring Package - Complete PRO6 Touring Package with flight cases in good condition. Previously used on tours.
PRO6 - Corporate used PRO6 in great condition.
PRO6 - Midas PRO6 touring package. Originally purchased in 2009. Product received very little use.
PRO6 Package - Special Touring Package in excellent condition.
PRO6 - Ex-hire Midas PRO6 touring package. Originally purchased in March 2009.
PRO6 - PRO 6 with 56 ins / 16 outs - Stage Box and (6) DSP Cards in great condition.
PRO6 - Corporate used PRO6 with flight case in great condition.