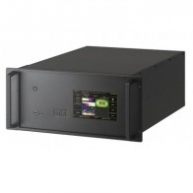 MA Lighting has developed the MA VPU (Video Processing Unit) as a powerful range of solutions for controlling, live accessing and altering videos, still images and 3D objects in real time.
All videos, still images and 3D objects can be scaled, positioned, tiled, colored and manipulated directly from any grandMA2 console. It is as simple as controlling any other fixture the MA VPU just has to be added to the network session. There are no additional parameters needed to control an MA VPU. The whole operation relies on the highly intuitive well-established MA philosophy. So if you know grandMA2, you know the MA VPU. Additionally the free to download VPU software has a teaser mode build in which gives you two layers of free playback with limited resolution to just test the functionality at your Windows computer.
Thanks to the power of the MA VPU all videos can be displayed in up-to Full-HD. Furthermore, the internal output synchronization of the MA-Net2 ensures the highest frame and DMX synchronicity.
Horizontal and vertical softedge blending as well as keystone correction help to scale videos to any size desired. Size doesnt matter! More than that, the MA VPU offers a convenient 3D keystoning functionality and enables the user to fit content to any 3D objects, regardless of size and shape. Furthermore improvements to frame interpolation and smooth speed control can be used to adjust the playback speed.
Beyond that there is a myriad of functions, features and effects available like frame blending, colour boost, dynamic colour key, contrast, brightness, hue, saturation as well as blur, sepia, black/white, ocean and invert and many more. All can be easily accessed and are self-explanatory in their use. Combinations of videos and still images can be mixed and controlled, and JPEG images and standard windows bitmap images such as *.bmp and *.gif as well as *.png with alpha channel are supported. Up to 32 x 3D-video-layers are possible for content.
The MA VPU can be programmed via the grandMA2 console in blind and preview modes. This means that the MA VPU follows the console to blind and preview which simplifies programming considerably. Also the VPU has a new Single-Layer-Crossfade mode which allows the user to programm all content on the same layer and even take the cuelist timing instead.
All three versions of the MA VPU are optimised for transportation, longevity and on-the-road use. Each MA VPU comes with a pre-installed content library comprising more than 17GB of professional content.Configuration, programming, operation, content distribution and software updates via any grandMA2
Easy to connect for instant start
Supports blind-mode and preview programming (switchable from the console)
Built-in EDID manager to avoid wrong output configuration
Advanced pixel mapping functionality DVI out and Pixelmapper can be used simultaneously
Frame and DMX synchronicity
Very low latency live video input (VPU plus MK2 and VPU basic MK2)
3D keystoning and softedging
Efficient backup solution one additional MA VPU is capable of backing up any MA VPU
Implemented text ticker and test-pattern generator
Layer reference option: this allows any layer as input for another
Professional balanced sound playback (with or without ground lift)
Best hardware components encapsulated and decoupled for outstanding performance and rock-solid reliability
MA Lighting
The company was founded in 1983 by Michael Adenau (MA) and enjoys strong growth from the very beginning until today. More than 10,000 MA control desks are being used all over the world and MA´s digital dimming systems have become an industry standard. The success accelerated in 1985, when software specialist Ernst Ebrecht joined MA Lighting as a partner. In this period MA introduced the Lightcommander 24 and Lightcommander 48 control desks. When launched in 1992 the MA Scancommander caused a huge stir in the burgeoning world of moving light control. This product established MA Lighting as a leading innovator of lighting control for the global touring and event sector. Leading producers of intelligent lighting showed great interest in MA's new operating philosophy, which radically differed from the historical "dimmer -oriented" control systems of that time. In the spring of 1998 MA showed the world the eagerly awaited grandMA console. This hybrid lighting control console brought a new level of hardware sophistication to the lighting world. The full color touch screens, motorized faders, built in UPS (uninterruptible power supply) and hard drive were only the beginning. The summer of 2000 saw the launch of a host of new products from MA, the grandMA light, the grandMA replay unit and the grandMA offline editor. In the autumn of 2001, the grandMA range will be completed with the introduction of the grandMA ultra-light. The ultra-light has 1,024 channels but retains the main features of a grandMA at a very competitive price. Today, MA Lighting are well known for their technical know-how and have achieved an unique international reputation for its operational philosophy. MA´s award-winning products are extremely reliable and offer cutting-edge solutions for dimming and control. Organizational Structure This story of success is strongly based on the teamwork between MA and Lightpower. Lightpower, located in Paderborn, is handling the international distribution of MA products since 1987. The two companies work very closely together and, through their respective roles, have made each other stronger. Production, and research & development are located in MA´s modern headquarters in Waldbuettelbrunn. For marketing, sales and technical support Lightpower has founded a new subsidiary: MA Lighting International. All of these activities are coordinated in their Paderborn facilities.
Used Video Processors and Mixers
A video processor, sometimes called a vision mixer, is used for professional compositing of video sources or the selection of video sources, in a similar fashion to the way audio streams are mixed and matched with a mixing console. This video processor technology is normally used in TV studios, video editing bays and production trucks or studios, in the production of TV shows, theatrical shows and concerts. Video processor is actually a term more commonly used in the United States â?? in Europe and other English speaking countries, the terms video or vision mixer are preferred. The operator of a video processor will generally be called a technical director in all countries however. The technical director will use the video processor to generate multiple transitions of video sources, such as pattern swipes or dissolves. The video processor can also be used to create color signals (or mattes) and carry out keying operations. As such, most video processors are geared towards professional use, and feature either a Serial Digital Interface (in the case of digital models) or component video connections (in the case of analog models). A digital video processor is normally used for linear video editing in live TV, in conjunction with video servers and video tape recordings. For other uses, such as video presentations, VJing and small productions involving the use of multiple cameras, an analog video processor is still fairly common.