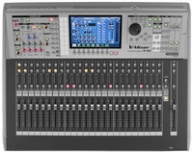 The V-Mixer Live mixing console is fully digital and uses Roland's REAC (Roland Ethernet Audio Communication) technology to transfer audio from the high quality mic pre-amps on stage to the mixing console. The integrity and sound quality of the audio signal is maintained from the stage units to the M-400 V-Mixer and back to the outputs for connection to amps and speakers. The system uses a Cat5e cable connection that is immune from the hums, buzzes, and crosstalk associated with analog snakes. No configuration is required. The M-400 features 25 x 100mm motorized and touch sensitive faders, a large bright 800x480 color screen, dedicated effect knobs for EQ, Pan, and Gain, and fully recallable scene settings. It is designed for all levels of operation, and the intuitive interface is quick to navigate and easy to learn. Up to 40 channels of multi-track audio can be recorded by simply connecting a Cat5e cable from the REAC Split port on the M-400 V-Mixer to a gigabit network port on your PC running Cakwalk's SONAR. You can connect the system to Edirol's video mixers for a completely integrated audio and video performance Solution.
Roland
Roland Corporation U.S. is a leading manufacturer and distributor of electronic musical instruments including keyboards and synthesizers, guitar products, electronic percussion kits, digital recording equipment, amplifiers and audio processing devices. With over 25 years of musical instrument development, Roland sets the standards in music technology for the world to follow.
Used Digital Mixing Consoles
Audio mixers, or sound consoles, are electronic sound mixing boards used to combine two or more audio signals, before directing them to the output channels connected to the device. Sound consoles do a great deal more than just combining different audio signals they allow users to optimize the sound output in a number of ways adjusting various sound levels, enhancing sound with special effects and equalization etc, allowing for unmatched control over the end product.