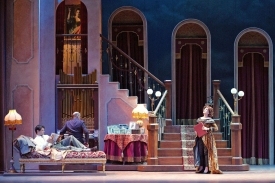 Music Theatre of Wichita Rents KIVA-KILO
October 28th, 2011
In order to raise production values for its loyal audience, the Music Theatre of Wichita has rented out a new L-Acoustics KIVA-Kilo loudspeaker system to boost the quality of its already impressive sound system even further.

Engineers used the L-ACOUSTIC SOUNDVISION program in order to map out the theatre, allowing them to specify the perfect set-up for the 2,195 seater Century II concert Venue. The new system encompasses 9 KIVA line source array Elements, which are flown directly below a pair of Kilo low frequency extension cabinets on each side of the hall.Drivingtheentiresystem is a lone LA-RAK, backed up by 3 LA8 amplified controllers.

MTW Sound Designer David Muehl said that the one of the key benefits provided by L-Acoustics was that it allowed them to eliminate the balcony delay system they had previously used. According to Muehl, so far he loves what he has heard, describing the audio output of the new system as "coming right off the stage," which is of course, just the way it's supposed to sound.