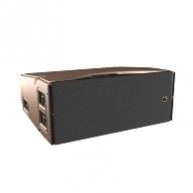 L-ACOUSTICS KUDO is a new generation of line source array offering far more flexibility and
possibilities than any other line array to date. KUDO marks a significant evolution in L-ACOUSTICS pioneering Wavefront Sculpture Technology (WST) since WST can now be performed in both vertical and horizontal planes simultaneously. Two patented DOSC waveguides are incorporated in KUDO, allowing WST to be performed either
vertically or horizontally. In parallel, coverage pattern adjustment is available in the perpendicular
plane using patent-pending K-LOUVER technology. Mechanically-adjustable K-LOUVERs provide directivity control for the mid/high section (above 800 Hz) and allow KUDO to be reconfigured with four different coverage pattern settings.
KUDO combines the functions of a variable curvature vertical line source array (like V-DOSC) and a
constant curvature horizontal line source array (like ARCS). When used as a vertical line source
array, inter-enclosure angles are 0-10deg at 1deg resolution and the horizontal directivity can be configured as: 50deg (symmetric); 110deg (symmetric); 25deg x 55deg (asymmetric) or 55deg x 25deg (asymmetric). Within the same array, individual enclosures can also be configured with different horizontal directivity depending
on the shape, width and reverberation properties of the Venue, making KUDO extremely flexible with respect to audience geometry matching When installed horizontally as a constant curvature line source array, 10deg inter-enclosure angles are
employed and the horizontal coverage is 10deg x N (where N is the number of enclosures). Vertical directivity can then be configured as: 50deg (symmetric); 110deg (symmetric); 25deg x 55deg (asymmetric - up) or 55deg x 25deg (asymmetric - down). Given the choice of 4 directivity settings and 2 orientation possibilities, KUDO provides the performance equivalent of 8 different loudspeakers. Having such unprecedented flexibility in a highpower, medium format system makes KUDO truly unique, and KUDO defines a new loudspeaker class in the same way as ARCS did in 1995 and dV-DOSCTM in 1998 (not to mention the industry paradigm shift that resulted following the release of V-DOSC in 1993).
L-Acoustics
Founded by Dr Christian Heil in 1984, L-ACOUSTICS has revolutionized the Pro Audio industry with its legendary Line Source Systems. For the past two decades, L-ACOUSTICS has developed a reputation for creating innovative solutions to the most demanding sound reinforcement requirements. Commitment to the scientific method and product innovation have been our philosophies from the outset. But innovation doesn't stop with the product itself: with continued value enhancements, we offer you exceptional product durability. L-ACOUSTICS is more than a sound system manufacturer, it is a full service partner dedicated to customer support. The Best Sound Comes From One Source
Used Line Array Speakers
Find used line array speakers and line array elements from such popular brands as L-Acoustics, d&b audiotechnik, Meyer Sound and Nexo. All used line array speakers are warrantied and in most cases inspected by factory certified technicians. Solaris sells and buys secondhand and used line arrays for large concerts, tours, stadiums and auditoriums. Call us if you don't find it and we will find it for you.
KUDO - KUDO package. Used on corporate events.
KUDO - Priced per unit. This is a Package of 12 KUDOs from L-Acoustics. From Installation.
KUDO - Package of (12) KUDO, (8) SB218, with Amps, Bump, and Racks in good condition.
KUDO - 2005 DEMO SYSTEM - 18 KUDO, 2 Bumpers and 6 PAD04K
KUDO - Turn-Key KUDO system with dollies in good condition. Previously used in rentals.
KUDO - Maintained by a class leader production company.
KUDO - Complete L'Acoustics KUDO + SB28 system.
KUDO - KUDO in great condition.
KUDO - Package of (12) KUDO, (8) SB218, in good condition.
KUDO - KUDO in great condition.
KUDO Package - 8 KUDO Loudspeakers Including front dolly and protective cover.
KUDO - Complete KUDO system in great condition.
KUDO - Complete KUDO System with (18) KUDO, Bumps, (12) SB218, and LA8 Amps in great condition.
KUDO - Package of (12) KUDO in great condition.
KUDO - Package of (18) KUDO, (12) SB218,
KUDO - Package of (16) KUDO and (8) SB218 package.
KUDO - Kudo system package with (18) Kudos, (4) LA48 amp rack, (8) SB218s and cables.
KUDO - KUDO Package in great condition.
KUDO - Like new Kudo, from 2013. Used in corporate events.
KUDO SB218 System - Includes Amps, Dollys, Covers
KUDO - KUDO in great condition.
KUDO + SB218 Package - Package of (16) Kudo, (2) Rigging frames, (8) SB28, (4) LA48 and cables.
KUDO - Turn Key KUDO Package in great condition, previously used on rentals.
KUDO Bump - Call for more information on this listing.
KUDO - Package of (12) KUDO, (4) LA8, (8) DO7, and (4) DO25 in great condition.
KUDO - Used on various rentals. Only worked with jazz and classical music.
KUDO - KUDO in good condition. Minimum purchase of (3) units. Priced per unit.
KUDO Package - Complete KUDO package. From various rentals. Always cleaned and tested.
KUDO System - Complete L'Acoustics KUDO +SB28 system.
KUDO - Package of (30) KUDO in great condition with (18) Dollies, (18) Covers, (3) Large Touring Charriot, ...
KUDO - Corporate used KUDO in excellent condition.
KUDO System - Complete L'Acoustics Kudo + SB28 system.
KUDO - Package of (12) KUDO and (8) SB218.
KUDO - KUDO with cover and dolly in great condition. Previously used in rentals. Minimum purchase of (2) u...
KUDO System - Kudo complete system including (16) tops, (8) SB218, (4) AMPS, (2) cases, (2) bumper and cables.
KUDO - KUDO in great condition.
KUDO - KUDO in good condition, previously used on tours.
KUDO - Package of (12) KUDO, (8) SB218, bumps, and amps in great condition.
KUDO Package - KUDO Package of (12) in great condition.
KUDO - Package of (12) KUDO with amplifiers and rigging in great condition.
KUDO - Call for more information on this listing.
KUDO - $4,400 ea. for 60 units. $4,550 ea. for 30 units. $4,690 ea. for 6 units