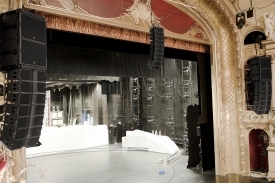 Norway National Theatre Installs New KARA System
November 20th, 2011
TheNorwegianNational Theatre based in the country's capital city, Oslo, has announced the installation of a brand new L-Acoustics KARA WST line source system.

The new sound system is made up of ten KIVA speakers in a center array and seven new KARA cabinets, together with a pair of SB18 subs on each side. Driving the system are a pair of amplified LA8 and LA4 controllers.

Speaking to reporters earlier this month, Kai Priddy, the chief technician at the National Theatre said that they had chosen KARA for their new system because of the excellent coverage and power output it provides for their PA system. This was a necessary installation, said Priddy, due to the increasing demands of the productions the theatre is staging.

Asked whether he was pleased with the new system Priddy announced that he was "very pleased with the performance and quality of the audio" so far.