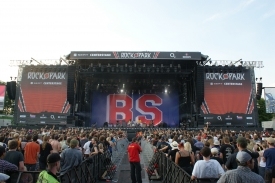 L-Acoustic K1/KUDO WST Serve Sweet Sounds in Germany
August 19th, 2011
Two of the biggest outdoor festivals in Germany adopted L-Acoustics' K1/KUDO WST line source systems this month - a testament to the world wide reputation of L-Acoustics reliability, the Germany-based outfitter claimed.

The systems were deployed at both The Ring and The Park festivals, which took place simultaneously this month. The Rock am Ring festival saw the deployment of a grand total of 24 K1s, 12 KUDOs, eight K1-SB subs, 16 KIVAs and an impressive 40 SB28 subs, while delay was provided by 64 V-DOSC cabs - the result being described as a "sweet and sonic" experience for all who attended.

Meanwhile the Rock im Park festival utilized a total of 24 K1s, 24 KUDOs, 8 K1 SB subs and 12 KIVAs, while 40 SB28 subs were used to enhance the performance of the main PA system. Delay towers at the event were fitted out with KUDO, dV-DOSC and V-DOSC enclosures.

Engineers who carried out both installations were full of praise for the L-Acoustics K1 system,whichthey said made it easier than ever to deal with the challenges ofopen-air events.