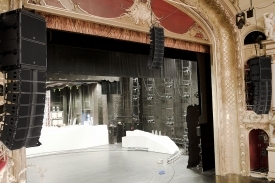 L-Acoustics KARA Line Array in Norwegian National Theatre
November 4th, 2011
The Norwegian National Theatre in Oslo has installed an L-Acoustics KARA WST line source system.

Their new system is composed of seven KARA cabinets flown with two SB18 subs per side, with a center array of 10 KIVA speakers. The system is driven by LA4 and LA8 amplified controllers.

"We chose the new KARA system because we needed to improve the coverage and power output of our main PA, due to the more demanding shows we are putting on, says the National Theatres house technician, Kai Priddy. We chose L-Acoustics equipment for our main stage back in 2008, and have been very happy with the performance and audio quality so far. Never change a winning formula!"