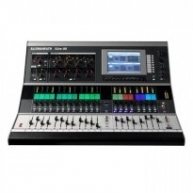 Live Sound Console
The GL4800 can easily meet any live mixing requirement. A host of recessed mode switches quickly configure the console for FOH, monitor or Monitors from FOH, with additional multitrack and stereo Recording capability. As a monitor console, you get up to 16 mixes for wedges, IEM and side fills using the 10 auxes, 4 matrix and LR. No professional monitor console is complete without an engineer's wedge output. The GL4800 provides this by switching AFL/PFL to the M fader, giving familiar control in the right place and with XLR drive.
Recording a live show can be particularly challenging, but the GL4800 has many options to make this job easier. You can use the direct output with pre/post selection and level trim from each channel for multitracking. The unique pre/post selectable group output trim facility allows grouped signals to be fed pre the master fader so that changes to the mix do not affect the record levels, particularly useful when trying to record and mix noisy backlines. The 4 matrix and additional pre/post selectable LR2 outputs can also be used to feed the Recording.
The flexibility and benefits of a matrix cannot be under estimated in today's console applications. The GL4800 excels with 4 matrix outputs, with a useful mode to allow an insert and balanced XLR output to be swapped from an aux if processing and long Cable drive are needed. The matrix mix can even be added to an aux mix if required, ideal for providing quick monitor mixes from groups or LRM while lifting key inputs using channel sends, or for adding effects to grouped signals.
Automation: A built-in processor manages the onboard mute system. 8 Quick select buttons can be programmed as mute groups or instant recall scenes. 128 memories can store snapshots of the channel and master mutes for scene recall, with MIDI port to interface with show control or archiving systems, and preview and safes functions to keep you in control. The processor also lets you quickly set or clear all mutes with a single button press.
Engineer's Toolbox: In true Swiss Army Knife fashion, there is an abundance of tools to help deal with every situation. The GL4800 master section is bristling with recessed mode switches to help get the most from the console in any application. A comprehensive monitoring system is provided with stereo PFL, PFL trim, AFL, LED meters on every channel and mix bus, additional VU output meters, local and headphone outputs, and Solo-in-Place which lets you Listen to the contribution of one or more channels in the mix, complete with toggle last and safes functions. Talkback allows independent communication to pre-selected outputs. A dedicated 2-track input is available for background music playback. The stereo channels feature our innovative 4-point width control which lets you narrow, reverse, mono or enhance your stereo image. You can also work with stereo Microphones by cross-patching between channels, to use dedicated stereo coincident X-Y, spaced or M-S techniques. And just to complete the functionality of the main outputs, LR blend to Mono controls are provided to create a quick centre fill mix.

48 channel frame
44 inputs mono & 4 stereo
8 Bus
Multi-functionality for FOH/Monitor mixing and live Recording
LR and M main mix
8 Audio groups with pan and routing to LR and M
11x4 Matrix
10 Auxiliary sends with faders, inserts and XLR
Aux 10 can provide channel direct output pre/post and level trim
Group out pre/post switching and level trim for Recording
Per channel pre/post fader aux switching for unlimited flexibility
Second LR2 output with pre/post fader selection and level trim
Output reverse mode to swap aux inserts and XLR with matrix and LR2
2-track replay to LR and monitor
Stereo channel line inputs can be assigned independently to LR
4 band, 4 sweep EQ with switched Q on midrange
Swept 20-400Hz high pass filters
Matrix to aux link for quick Monitors and grouped effects
128 snapshot memory mute automation with preview and safes functions
8 Mute groups or scenes
Solo-in-Place with toggle last and safes
Single press clear or set all mutes function
Mutes on all fader masters
Meters on all buses to prevent mix overload
Simultaneous metering of the groups, LRM and auxes
Integral LED-illuminated moving coil VU meterpod
Simultaneous LED bar and VU monitor metering
Mono/stereo PFL with trim
PFL override AFL for logical input/output monitoring
Engineers wedge fader control in monitor mode
Separate headphones and local outputs
Talkback to LR, M, groups, matrix, and to each aux
Electronically balanced XLR outputs with +27dBu drive capability
Preamp +34dBu maximum input capability for mic or line
Ultra low noise mix head amp design
Balanced inserts with separate send and return sockets
100mm, premium grade dual rail faders
Metal jacks, gold-plated XLRs, sealed pots and switches
Individual circuit card assembly with nutted pots
Built-in combiner for redundant backup Power Supply
Sys-Link V2 console input linking option
Allen and Heath
We've built a lot of mixers in the last 35 years or so (over 160,000 at the last count) and we still get a huge buzz out of doing it well. It's an unbeatable feeling to know that at any time of day or night, right across the globe, there is an Allen & Heath mixer out there working hard, sounding great and making life a little easier for the guy at the controls.
Used Digital Mixing Consoles
Audio mixers, or sound consoles, are electronic sound mixing boards used to combine two or more audio signals, before directing them to the output channels connected to the device. Sound consoles do a great deal more than just combining different audio signals they allow users to optimize the sound output in a number of ways adjusting various sound levels, enhancing sound with special effects and equalization etc, allowing for unmatched control over the end product.
iLive T80 - Package (1) iLive 80, (1) iPS10, and (1) iDR16 in great condition. Units were previously used in an ...
iLive 80 - iLive 80 system with iDR10 and iDR-64 in like new condition.
iLive T80 Surface - iLive 80 with flight case in great condition, from 2013.
iLive T80 - Corporate used iLive 80 in like new condition.