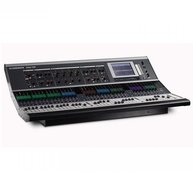 Allen & Heath iLive 144 The Allen & Heath iLive digital mixing console system brings the A & H name into the world of live digital mixing. Long a legendary name in the world of analog consoles, the companys foray into digital mixing is characteristically Classic and functional.
Allen and Heath
We've built a lot of mixers in the last 35 years or so (over 160,000 at the last count) and we still get a huge buzz out of doing it well. It's an unbeatable feeling to know that at any time of day or night, right across the globe, there is an Allen & Heath mixer out there working hard, sounding great and making life a little easier for the guy at the controls.
Used Digital Mixing Consoles
Audio mixers, or sound consoles, are electronic sound mixing boards used to combine two or more audio signals, before directing them to the output channels connected to the device. Sound consoles do a great deal more than just combining different audio signals they allow users to optimize the sound output in a number of ways adjusting various sound levels, enhancing sound with special effects and equalization etc, allowing for unmatched control over the end product.
iLive 144 - Used on a church installation. Control surface and 64-channel iDR10 mix rack. 30 day warranty.
iLive T80 with idr 31 mix rack - In like new condition. Still sealed in the box. Used on an audio project where the customer backed o...
iLive 144 - Allen & Heath iLIVE 144 surface with 8/8 analogue in/out. Comes with a 7 day warranty.
iLive 144 - An I-Live Digital console used locally for Corporate Work in Excellent Condition with all Latest Fir...