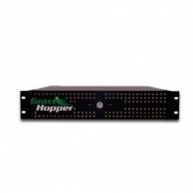 If your project needs a single output of full HD fed from 12 media layers in a robust but compact rackmount form then meet the Hippotizer GrassHopper. The latest addition to the Green Hippo range brings a wealth of possibilities to any show whilst ensuring you dont compromise quality when meeting the budget.

GrassHopper shares all the software features of its close relative the Hippotizer HD. Its unrestricted output resolution allows you to drive a single HD display or lets you get the best from output extenders such as Matrox multi-head adapters, the EMS-iVU4 or Datapath x4.

Use it as a stand-alone player, with VideoMapper or make it work hard as part of an UberPan rig to provide the flexibility, ease of use and array of configuration options youve come to expect from any member of the Hippotizer family.
Green Hippo
Green Hippo Ltd was formed in 1999 to provide new and innovative solutions for display of media. With backgrounds in Corporate presentation, control systems and the arts, we decided to glue all these diversities together and create something few others had: A professional team capable of combining technical ability with a creative flair. Early systems controlled DVD players via InfraRed since affordable hard drive playback for video was a nonestarter. However we soon progressed to servers displaying linear pieces of video via a touchscreen - hardly inovative by todays standards but at the time we knew we had the fastest and most stable system available and our first product was quickly snapped up by Luminar Leisure for their Liquid nightclub chain and the ball was rolling. But perhaps the biggest step forward came in 2001 when we teamed up with Swiss, Canadian and Siberian partners to develop the worlds first off-the-shelf realtime VJ console and, voila!, The Hippotizer was born. Launched at BAR 2001 the unit soon became recognised as THE realtime video server for the leisure industry. In spring 2003 we were approached by digital content providers Scene Change Ltd to develop a new variant of The Hippotizer. Digital Video Lighting is the biggest innovation in the lighting industry since the moving head and within months, V1 of the Hippotizer DMX range were born. Launched at PLASA 2003, the new DMX variants had dealers and users alike clambering to get their hands on the future of media display. These units are controlled via a lighting desk and use the industry standard DMX protocol for control. Suddenly we were ploughing into unchartered territory as one of the pioneers of this exciting new age of media display. By 2004 we were onto version 2 of the Hippotizer. Not solely for lighting anymore, the units are controllable by all the common industry protocols. Suddenly, with the addition of a seperate control center, dual output on the stage and a whole host of innovative features we were no longer the young upstarts. The system had matured and before long the majority of our systems were finding themselves on broadway shows, A-list Rock n Roll tours and in clubs around the globe. We are flattered to see that the competition now rushes to implement versions of OUR features into their systems! But receiving the Entertainment Design EDDY award for Projection Product of the Year 2005 gives weight to our belief that we make the most complete and useable media servers in the world. But don't take our word for it. Get your hands on one and let us know if we're right! By summer 2005 things were getting really scary with our new higher profile and we looked at ways to improve the way we work. So we implemented the inevitable and merged with Scene Change Under the Green Hippo banner to strengthen and streamline our team. We now have a core group of enthusiatic worker ants ready to take on the challenges that LED and new applications keep throwing our way. We're still only seeing the tip of the iceberg with regards to media servers. Keep checking back to see how the adventure is shaping up.
Used Video Processors and Mixers
A video processor, sometimes called a vision mixer, is used for professional compositing of video sources or the selection of video sources, in a similar fashion to the way audio streams are mixed and matched with a mixing console. This video processor technology is normally used in TV studios, video editing bays and production trucks or studios, in the production of TV shows, theatrical shows and concerts. Video processor is actually a term more commonly used in the United States â?? in Europe and other English speaking countries, the terms video or vision mixer are preferred. The operator of a video processor will generally be called a technical director in all countries however. The technical director will use the video processor to generate multiple transitions of video sources, such as pattern swipes or dissolves. The video processor can also be used to create color signals (or mattes) and carry out keying operations. As such, most video processors are geared towards professional use, and feature either a Serial Digital Interface (in the case of digital models) or component video connections (in the case of analog models). A digital video processor is normally used for linear video editing in live TV, in conjunction with video servers and video tape recordings. For other uses, such as video presentations, VJing and small productions involving the use of multiple cameras, an analog video processor is still fairly common.