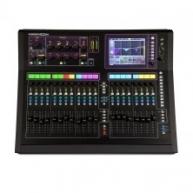 GLD is a user-friendly, cost effective and scalable live digital mixing system, conceptually based on the hugely successful digital iLive series. A standard GLD 32 input system offers 28 XLR mic inputs with plug n play I/O expanders allowing easy expansion up to 48 inputs (44 XLR mic inputs).

At the heart of the system is the GLD-80 mixer, providing 48 input processing channels, 8 stereo FX returns fed by iLives acclaimed FX emulations, 30 configurable buses, 20 mix processing channels, and DSP power to provide full processing without compromise.
Allen and Heath
We've built a lot of mixers in the last 35 years or so (over 160,000 at the last count) and we still get a huge buzz out of doing it well. It's an unbeatable feeling to know that at any time of day or night, right across the globe, there is an Allen & Heath mixer out there working hard, sounding great and making life a little easier for the guy at the controls.
Used Digital Mixing Consoles
Audio mixers, or sound consoles, are electronic sound mixing boards used to combine two or more audio signals, before directing them to the output channels connected to the device. Sound consoles do a great deal more than just combining different audio signals they allow users to optimize the sound output in a number of ways adjusting various sound levels, enhancing sound with special effects and equalization etc, allowing for unmatched control over the end product.