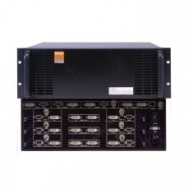 The Encore Video Processor (VP) is the heart of the Encore Presentation System, providing all input, output, layering and wide screen "blending" cicuitry. Packaged as a 3RU rackmount unit, each VP can be outfitted with one, two or three Mix/Effect (M/E) boards to meet different application requirements. Models ordered with one or two M/Es can be easily upgraded by adding additional M/E boards.

Each M/E provides two independent Athena scaler channels, Barco Folsom's proprietary scaler that supports universal inputs (for both analog and digital video sources) and smooth real-time PIP movements and re-sizing based on user specified keyframes.

Within an Encore system, each VP is essentiallya single destination, and multiple VPs can be combined to create advanced systems comprised of both single and blended destinations. Each VP's output board provides Program and Preview outputs in both analog and digital formats, plus interface, blending and data-doubling functions which are required to support wide screen applications.

Supported output resolutions include computer resolutions up to 1600 x 1200, analog HDTV resolutions including 720p, 1080i, 1080p, HD-SDI, 2048x1080p Digital Cinema video, and plasma display resolutions. Output synchrolization is supported to lock the output frame rate to an externally applied NTSC/PAL black burst signal.

In terms of input flexibility, the VP accepts standard component and composite analog video formats (NTSC, PAL, SECAM), SDI video, computer resolutions up to 1600 x 1200, analog HD formats including 720p, 1080i, HD-SDI Video, 2048 x 1080p Digital Cinema video, and Plasma display resolutions. In addition, the Athena scaler features 1:1 pixel sampling, motion adaptive de-interlacing for both standard and high definition sources, 3:2 and 2:2 pull down detection, low video delay, Aspect ratio correction, image cropping and real-time window resizing and positioning.

A VP configured with three M/Es supports six independent PIP or KEY images, or three transitioning PIPs essentially, the M/Es are the system's "layers". Two un-scaled background channels provide a high resolution backdrop that also supports seamless transitions. Down Stream Key (DSK) effects are supported by a third un-scaled high-resolution input channel.

In terms of creativity, PIPs and KEYs can be sized and positioned anywhere on screen in real-time. Z-order control is used to assign layer priorities to each PIP or KEY, and PIPS can also be linked in pairs to support transitions, or displayed (and transitioned) independently. Keys are used to provide effects such as titles and special masks.
Barco
Barco, a global technology company, designs and develops visualization solutions for a variety of selected professional markets: medical imaging, media & entertainment, infrastructure & utilities, traffic & transportation, defense & security, education & training and corporate AV. In these markets Barco offers user-friendly imaging products that optimize productivity and business efficiency. Its innovative hard- and software solutions integrate all aspects of the imaging chain, from image acquisition and processing to image display and management. Barco has its own facilities for Sales & Marketing, Customer Support, R&D and Manufacturing in Europe, America and Asia-Pacific. The company (NYSE, Euronext Brussels: BAR) is active in more than 90 countries and employs 3,500 staff worldwide. In 2008 Barco posted sales of 742 million euro.
Used Video Processors and Mixers
A video processor, sometimes called a vision mixer, is used for professional compositing of video sources or the selection of video sources, in a similar fashion to the way audio streams are mixed and matched with a mixing console. This video processor technology is normally used in TV studios, video editing bays and production trucks or studios, in the production of TV shows, theatrical shows and concerts. Video processor is actually a term more commonly used in the United States â?? in Europe and other English speaking countries, the terms video or vision mixer are preferred. The operator of a video processor will generally be called a technical director in all countries however. The technical director will use the video processor to generate multiple transitions of video sources, such as pattern swipes or dissolves. The video processor can also be used to create color signals (or mattes) and carry out keying operations. As such, most video processors are geared towards professional use, and feature either a Serial Digital Interface (in the case of digital models) or component video connections (in the case of analog models). A digital video processor is normally used for linear video editing in live TV, in conjunction with video servers and video tape recordings. For other uses, such as video presentations, VJing and small productions involving the use of multiple cameras, an analog video processor is still fairly common.