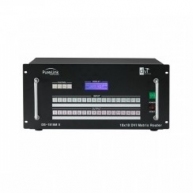 PureLink is known worldwide for our market-leading and best selling line of DVI Matrix Routers. This data sheet includes information on our largest routers, the 18X18 PureLink's 2nd generation models include a breakthrough feature called Flexible EDID Management, the most advanced EDID functionality available today. In addition to all the other advanced and exclusive features, PureLink models are now compatible with both the Vista Spyder and Barco Encore controllers. When it comes to meeting spec and being reliable, nothing beats a PureLink.

Features:

Flexible EDID Management (Real Time EDID, Fixed EDID, Restore EDID)
Pixel reclocking & error correction for optimal picture quality.
19 Rack Mountable - Robust & Heavy Duty Casing
Two Line LCD Display for Intuitive & Rapid Switching
Controllable via any external controller (e.g. Vista Spyder, Barco Encore)
Built-in RS-232C LAN for external control via PC or Controller
1080p / Computer Resolution up to 2048x1080 at 60Hz
Matrix Switching for up to 18 DVI inputs and 18 DVI outputs
Supports upto WUXGA resolution at 60hz

Technical Specification
s: DS-99M II / DS-1818M II : 19(W) x 10(D) x 9(H) : 12 lbs, 13.6 lbs, DX-3600 Pro : 19(W) x 10(D) x 14(H) : 19 lbs
Dimensions (in) & weight (lbs):
Power Consumption : 80 W (Max.)
Power Supply: DC 12V/10A Adapter
Connector Type: DVI-D/LC
Data Rate: 1.65 Gbps(single link)
Purelink
From the beginning, PureLink has been dedicated to making the digital world a better place through their state-of-the-art digital connectivity products and solutions. PureLinkís technologies are deployed worldwide by public, private and governmental sectors. Vertical markets include government and military organizations, broad and post-production facilities, energy sector control rooms, scientific exploration, banking and brokerage, commercial IT, medical imaging, and home theater. Through innovative, reliable products and services, a talented team of thinkers and builders, valuable partnerships, and a responsible approach to business and global citizenship, PureLink is leading the world in imaginative new directions.
Used Video Processors and Mixers
A video processor, sometimes called a vision mixer, is used for professional compositing of video sources or the selection of video sources, in a similar fashion to the way audio streams are mixed and matched with a mixing console. This video processor technology is normally used in TV studios, video editing bays and production trucks or studios, in the production of TV shows, theatrical shows and concerts. Video processor is actually a term more commonly used in the United States '?? in Europe and other English speaking countries, the terms video or vision mixer are preferred. The operator of a video processor will generally be called a technical director in all countries however. The technical director will use the video processor to generate multiple transitions of video sources, such as pattern swipes or dissolves. The video processor can also be used to create color signals (or mattes) and carry out keying operations. As such, most video processors are geared towards professional use, and feature either a Serial Digital Interface (in the case of digital models) or component video connections (in the case of analog models). A digital video processor is normally used for linear video editing in live TV, in conjunction with video servers and video tape recordings. For other uses, such as video presentations, VJing and small productions involving the use of multiple cameras, an analog video processor is still fairly common.