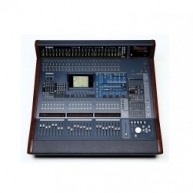 96 Inputs and 22 Buses For Glorious Surround Sound

Combining a leading-edge design philosophy with the latest in digital technology, the DM2000VCM is the world's first sound / music production digital console to receive approval under the globally-recognized THX pm3 surround standard. Multi-channel digital broadcast, Internet delivery of television and music, the integration of next-generation "Blu-Ray Disc" media with each passing year the market demand for surround-sound media reaches new heights, requiring ever more quality and speed from broadcast and production facilities.
Everything we know about digital audio has been put into developing the DM2000VCM. It combines a myriad of surround mixing and monitoring functions together with a maximum of 96 inputs and 22 mixing buses, transparent sound quality thanks to a superb head amp, 24-bit AD/DA, and 96 kHz sampling, as well as superior integration with DAW (Digital Audio Workstation) packages such as NUENDO. This result is a console that is able to handle the demands of today's production and broadcast environments with ease.
The DM2000VCM also brings to the table VCM plug-ins like EQ, compressors, tape saturation, and guitar effectors now standard on Yamaha's digital consoles, along with the outstanding REV-X reverb algorithm newly introduced in the SPX2000. Add to this the smooth, realistic sound of iSSP surround field technology, and you have a console that provides simply breathtaking performance.
Put simply, our flagship DM2000VCM production console takes sound production to new heights.
Yamaha
Since 1887, when it began producing reed organs, the Yamaha Corporation in Japan (then Nippon Gakki Co., Ltd.) has grown to become the world's largest manufacturer of a full line of musical instruments, and a leading producer of audio/visual products, semiconductors and other computer related products, sporting goods, home appliances and furniture, specialty metals, machine tools, and industrial robots. Yamaha now owns 59 subsidiaries and affiliates in overseas markets in addition to numerous related companies in Japan. Additionally, Yamaha owns and runs its unique resort facilities throughout Japan so as to enhance our customers' leisure and cultural activities. Also, Yamaha provides a place for studying music, sets opportunities for presenting one's own compositions, and creates an environment for the enjoyment of a variety of musical endeavors. Since Yamaha Music Foundation was established in 1966, it has generated a wide range of music activities throughout global society, including Yamaha music schools, and the Junior Original Concert. Strong commitment to promote and support music education and popularization is one of the most significant elements to distinguish Yamaha from its competitors. Yamaha has endeavored to produce products and services that satisfy the diverse needs and desires of people worldwide. Its products and services are recognized the world over for superior quality in acoustics, design, technology, craftsmanship, and customer oriented services. These products and services under the brand name of Yamaha are highly regarded by a large number of professionals, institutions, business people within the related industries, and consumers. Our corporate philosophies are embedded in our customer oriented management and operations; providing excellence in our products and services; continuous efforts to expand our existing market and create new markets; enhancement of research and development on a long range perspective; commitment to care for end users through providing even better service after sale; pursuit of further globalization of Yamaha's business; fostering positive growth through diversification. Yamaha's very basic corporate objective is reflected in everything that it does, which is to contribute to the enrichment of the quality of lives for people around the world.
Used Digital Mixing Consoles
Audio mixers, or sound consoles, are electronic sound mixing boards used to combine two or more audio signals, before directing them to the output channels connected to the device. Sound consoles do a great deal more than just combining different audio signals they allow users to optimize the sound output in a number of ways adjusting various sound levels, enhancing sound with special effects and equalization etc, allowing for unmatched control over the end product.