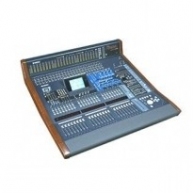 The Version 2 SOFTWARE for DM2000 has been created in response to the many ideas and requests we have received from our valued end users. In addition to the significant overall performance enhancements, the Version 2 system Software offers a range of new features that add advanced capabilities for audio production, broadcast, and live applications.

But there's more. You also get the capability to install the new optional ADD-ON EFFECTS, providing a range of state-of-the-art effect programs in addition to the current internal effect list.

The version 2 system software is offered as an Upgrade Kit: DM2000V2K , to be installed in the current DM2000 digital consoles in use.

The Version 2 SOFTWARE UPGRADE KIT also includes a new and improved STUDIO MANAGER application for Windows 2000/XP and Mac OS X platforms.

Version 2 Software Key Features

General New Features

* Add-On Effect Capability
* Automix Static Insert Edit for clip based automation
* Fader level, Port Name on FL Display
* Additional Settings on User Defined Keys, Encoder Mode
* Additional Parameters on GPI and Recall Safe

Advanced DAW Integration

* Nuendo and Cubase SX control by selected Channel Module
* Surround pan control on Pro Tools Remote
* MMC or P2 transport control on DAW Remote Layer.

Advanced Surround Functions

* 6.1 Panning & Monitoring
* Flexible Surround Bus Setup
* Snap to SPL85
* Additional Base Management Parameters
* Surround Pan On / Off (by using Follow Pan switch)
* Summed Monitoring of Surround Monitor Source
(BUS+ASSIGN1, BUS+ASSIGN2)

Broadcast Applications

* Mix Minus
* Operation Lock with password
* Pre Fader SOLO with PAN
* Fader / Solo Release
* Independent L/R Oscillator (1kHz/400Hz)

Live SR / Theater Applications

* User Assignable Layer
* Fader Group Master
* Mute Group Master
* Alternative Layer control by Encoders
* Instant group assignment with User Defined Keys
* GEQ Fader operation
* AUX Pre Fader Pre ON (AUX Pre Point)
* Instant AUX monitoring (AUX/SOLO LINK)
* Global Paste to multiple scenes
* Global Fade Time
* Global Recall Safe
* Gain Reduction Meter

Studio Manager V2

The Yamaha Studio Manager gives you access to the console's parameters for either on-line or off-line control, and can manage and extensive archive of mix data, scene memory and library files, and it can be used as a medium to exchange data between the Yamaha Digital Consoles.

STUDIO MANAGER Version 2 application for Windows 2000/XP and Mac OS X platforms provide a number of enhancements that makes the already indispensable program more flexible and powerful than ever. It has now become a truly multi-client platform that can accommodate, for example, cascaded DM2000 and various Yamaha editors such as SPX2000 editor, and realize the total recall of the settings in the connected equipment.

The STUDIO MANAGER Version 2 also integrates the GUI for ADD-ON EFFECTS.

Studio Manager Version 2 Key Features

Overall New Features

* Multiple hardware support
* Multiple Editor Support
* Multiple Window support
* Window open/close control from the console
* Multiple Undo capability

Layer Window

* Hide/show blocks of parameters
(Master fader block to be separated)
* User Assignable Layer with Fader Group Master
* Longer stroke meters
* Jump to Selected channel window by double-clicking Channel ID
* Display numeric value of fader level

Master Fader Window (NEW)

* Online/Offline switch

Selected Channel Window

* Long Stroke channel meter
* Gate Type Display

Patch Editor window

* Resizable Patch window
* Cursor based operation
* Effect Patch window showing both inputs and output to/from each effect block
* List and edit Port names

Meter Window

* All channel meter at a glance

Library Window

* Simultaneous operation of multiple scenes/Libraries
* Direct Recall from HDD
* Patch Library Link to Scene Memories


Automix Library Window (NEW)

Surround Editor Window

* 6.1 channel support

Effect Editor Window

* Add-On effects GUI support

Beyond Mixing to Total Production Control

It took a while, but at long last the seminal standard of digital sound - 16 bits at 44.1 kHz - has seen its day ... at least on the production front. We've seen bit depths of 18, 20, and 24 at sampling rates of 48 kHz, and sometimes higher, come and go, but now the entire industry has its sights set on one formula that is the future of digital sound: 24 bits at 96 kHz. Now we really do have a digital standard that delivers the smooth, natural sound of analog recordings without the attendant disadvantages. And, in the same way that the Yamaha DMC1000, 02R and then the PM1D revolutionized the fledgling field of digital mixing as it grew in rapidly increasing leaps and bounds throughout the last decade, the Yamaha DM2000 Digital Production Console is ready to define the industry standard for the foreseeable future.

But the DM2000 is much more than simply a high-performance digital mixer, it is a total production tool that also offers 96-kHz effects, advanced surround production facilities, extensive integrated DAW and machine control, computer and memory-card based data management, an extraordinarily flexible bus system with digital patching, inserts, and much more.

Yamaha defined the first generation of affordable, professional Digital Mixing Consoles. Get ready for the next generation - total production control.

Dedicated DSP LSIs Deliver Unprecedented 24-bit, 96 kHz Performance
Unlike conventional equipment that achieves operation in 96K mode with reduced number of tracks, with DM2000 there is no limitation dependent on sampling frequencies - 44.1kHz, 48kHz, 88.2kHz or 96khz. For DM2000, 96Khz is the standard. To achieve this, no fewer than 14 newly-developed DSP7 LSIs are utilized in the mixer section with eight DSP6 LSIs for effects. These chips are designed and manufactured by Yamaha specifically for professional audio applications, and deliver performance that stretches the limits of the most advanced technology currently available.

By way of comparison, the Yamaha 02R - the digital mixing console that almost single-handedly started the digital production revolution, and rapidly became the industry standard - uses six DSP3 chips in its mixer section. A single DSP7 chip has more than four times the processing power of a DSP3. The DM2000 provides more than 9 times the processing power of 02R. We're talking about 96 channels of super-clean, super-dynamic, noise-free 24-bit/96 kHz audio, plus all the additional effects and processing you'll ever need for most applications. At 44.1 or 48 kHz the DM2000 is barely idling.

Internal Effects Fully Support 96kHz Processing
What's the point of having 24-bit/96kHz audio if you have to convert down to a lower sampling rate for effect processing? The point may seem obvious, but that's exactly what's happening if you're using hardware or software processors that don't offer 24-bit/96kHz performance anywhere in your signal chain. That's why Yamaha included a comprehensive range of 96-kHz compatible stereo effects in the DM2000 - plus several designed specifically for surround. And you can use as many as eight individual effect processors simultaneously.

Finest Mic-Preamps with 24-bit/96kHz On board AD/DA Conversion
Taking the preceding discussion a step further, what about analog-to-digital and digital-to-analog conversion? The same applies: if you don't have all 24 bits at the full 96 kHz in top-quality converters, you're definitely going to be missing something (i.e. part of your sound). Once again, the DM2000 imposes no limitations. All onboard A/D and D/A conversion makes use of the finest 24-bit/96kHz converters. This is particularly important in the DM2000 because it features some of the finest analog mic preamps available in any console, anywhere. The on-board converters ensure that you get an excellent digital representation of the warm, transparent output from these remarkable mic preamps. A new range of Mini-YGDAI digital and analog I/O cards also provide full 24-bit/96kHz capability.

Comprehensive Automation and Scene Control
Automation and Scene Memory recall capability are essential Elements of modern Digital Mixing Consoles. With the DM2000, Yamaha takes these functions to an even higher level of precision and ease-of-use. While providing full automation of virtually all console parameters, DM2000 features smooth and quiet touch-sensitive, 100mm motorized faders that make writing and updating automated mixes faster and more intuitive than ever. And all automation data is recorded at 1/4-frame accuracy to ensure excellent precision.

Complete Surround Solution
It looks as though an industry-standard surround format is finally here, and the DM2000 provides everything required for a complete surround Solution. All the facilities you need for surround processing, panning and monitoring - including joystick - are provided as standard equipment. The joystick is the perfect (and generally preferred) tool for smooth, continuous positioning of 5.1 surround sound for DVDs or other surround media. And since accurate monitoring is so essential to surround production, extra care was taken to ensure that the DM2000 offers the ideal mixing environment - it includes a downmix matrix which can deliver 3-1(LCRS) and stereo mixes while you are burning a 5.1 surround mix to DVD, bass management, and speaker alignment facilities for optimum speaker system tuning. The DM2000 will even handle multiple 5.1 stem mixes with ease.

Intuitive Interface Designed for Maximum Productivity
Anyone who is familiar with the 02R will immediately feel comfortable with the DM2...
Yamaha
Since 1887, when it began producing reed organs, the Yamaha Corporation in Japan (then Nippon Gakki Co., Ltd.) has grown to become the world's largest manufacturer of a full line of musical instruments, and a leading producer of audio/visual products, semiconductors and other computer related products, sporting goods, home appliances and furniture, specialty metals, machine tools, and industrial robots. Yamaha now owns 59 subsidiaries and affiliates in overseas markets in addition to numerous related companies in Japan. Additionally, Yamaha owns and runs its unique resort facilities throughout Japan so as to enhance our customers' leisure and cultural activities. Also, Yamaha provides a place for studying music, sets opportunities for presenting one's own compositions, and creates an environment for the enjoyment of a variety of musical endeavors. Since Yamaha Music Foundation was established in 1966, it has generated a wide range of music activities throughout global society, including Yamaha music schools, and the Junior Original Concert. Strong commitment to promote and support music education and popularization is one of the most significant elements to distinguish Yamaha from its competitors. Yamaha has endeavored to produce products and services that satisfy the diverse needs and desires of people worldwide. Its products and services are recognized the world over for superior quality in acoustics, design, technology, craftsmanship, and customer oriented services. These products and services under the brand name of Yamaha are highly regarded by a large number of professionals, institutions, business people within the related industries, and consumers. Our corporate philosophies are embedded in our customer oriented management and operations; providing excellence in our products and services; continuous efforts to expand our existing market and create new markets; enhancement of research and development on a long range perspective; commitment to care for end users through providing even better service after sale; pursuit of further globalization of Yamaha's business; fostering positive growth through diversification. Yamaha's very basic corporate objective is reflected in everything that it does, which is to contribute to the enrichment of the quality of lives for people around the world.
Used Digital Mixing Consoles
Audio mixers, or sound consoles, are electronic sound mixing boards used to combine two or more audio signals, before directing them to the output channels connected to the device. Sound consoles do a great deal more than just combining different audio signals they allow users to optimize the sound output in a number of ways adjusting various sound levels, enhancing sound with special effects and equalization etc, allowing for unmatched control over the end product.
DM2000V2 - Used on a few tours. 30 day warranty.
DM2000V2 - DM2000V2 with (2) M Y DA 96 Cards, Connectors, and flight case in excellent condition. Previously us...
DM2000V2 - Digital console
DM2000V2 - Corporate used DM2000V2 in great condition.
DM2000V2 - Front of House Console - Kept in Perfect Condition Since Purchase Date in 2005
DM2000V2 - Used on various tours. In good working order. 30 day warranty.
DM2000V2 - Excellent Condition!
DM2000V2 - 49 Channel Digital Console
DM2000V2 - DM2000V2 with flight case in good condition, previously used on rentals.
DM2000V2 - Great Condition
DM2000V2 - Complete DM2000V2 package.
DM2000V2 - 56ch. Digital Live & Post Console, Softare V2
DM2000V2 - From a church installation. Comes with a 30 day warranty.
DM2000 - This is a Yamaha DM2000 with ADAT Expansion. 24 Channel Expandable to 96.
DM2000V2 - Used on various rentals for corporate and festivals.
DM2000V2 - DM2000V2 has Aviom 16/o-Y1 expansion, two MY16-AE AES/EBU expansion, and a MY8-DA96 analog expansion...
DM2000V2 - Digital console
DM2000V2 - Mixer is in mint condition. Comes with a 30 day warranty.
DM2000V2 - Used Yamaha DM2000