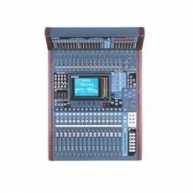 19-inch Digital Production Console For Professionals In the Studio Or On the Road

When the acclaimed Yamaha DM2000 console appeared on the production scene, it proved that true 24-bit/96 kHz performance, DAW integration, and surround production facilities were what the industry had been waiting for. With the introduction of the 02R96 the same benefits became available to a broader range of engineers and facilities, including project studios for music production. Now the Yamaha DM1000, like the DM2000, is designed especially for commercial post-production, audio for video, and broadcast applications. But extraordinary versatility and configurability mean that the DM1000 is also ideal for a wide range of sound reinforcement applications.

The DM1000 Digital Production Console distills the essence of the DM2000 into a remarkably compact console that delivers the same level of performance and key features. And with the supplied Studio Manager Application software, all mix data is interchangeable between the DM2000, DM1000 and 02R96. These consoles can be linked and cascaded interactively within a multi-complex studio, or a tour engineer can do a basic console setup on his laptop computer anywhere, and then simply load the settings into the console at the Venue.
Like its predecessor, the DM1000 delivers mixing power and performance that's way ahead of anything else on the market, and it even incorporates newly introduced software features such as 6.1 Surround, User Assignable Layer, and Global Recall Safe.
The ??DM evolution continues. Never has so much mixing power and versatility been available in a compact, rack-mountable console.
With introduction of Version 2, the DM1000 evolves itself even further and enhance your mixing capabilities even higher.
Yamaha
Since 1887, when it began producing reed organs, the Yamaha Corporation in Japan (then Nippon Gakki Co., Ltd.) has grown to become the world's largest manufacturer of a full line of musical instruments, and a leading producer of audio/visual products, semiconductors and other computer related products, sporting goods, home appliances and furniture, specialty metals, machine tools, and industrial robots. Yamaha now owns 59 subsidiaries and affiliates in overseas markets in addition to numerous related companies in Japan. Additionally, Yamaha owns and runs its unique resort facilities throughout Japan so as to enhance our customers' leisure and cultural activities. Also, Yamaha provides a place for studying music, sets opportunities for presenting one's own compositions, and creates an environment for the enjoyment of a variety of musical endeavors. Since Yamaha Music Foundation was established in 1966, it has generated a wide range of music activities throughout global society, including Yamaha music schools, and the Junior Original Concert. Strong commitment to promote and support music education and popularization is one of the most significant elements to distinguish Yamaha from its competitors. Yamaha has endeavored to produce products and services that satisfy the diverse needs and desires of people worldwide. Its products and services are recognized the world over for superior quality in acoustics, design, technology, craftsmanship, and customer oriented services. These products and services under the brand name of Yamaha are highly regarded by a large number of professionals, institutions, business people within the related industries, and consumers. Our corporate philosophies are embedded in our customer oriented management and operations; providing excellence in our products and services; continuous efforts to expand our existing market and create new markets; enhancement of research and development on a long range perspective; commitment to care for end users through providing even better service after sale; pursuit of further globalization of Yamaha's business; fostering positive growth through diversification. Yamaha's very basic corporate objective is reflected in everything that it does, which is to contribute to the enrichment of the quality of lives for people around the world.
Used Digital Mixing Consoles
Audio mixers, or sound consoles, are electronic sound mixing boards used to combine two or more audio signals, before directing them to the output channels connected to the device. Sound consoles do a great deal more than just combining different audio signals they allow users to optimize the sound output in a number of ways adjusting various sound levels, enhancing sound with special effects and equalization etc, allowing for unmatched control over the end product.