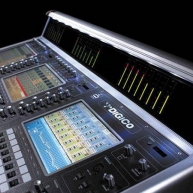 D1 Live 40, with its 40 mic/line inputs and MADI connectivity, is the perfect addition to an installation or rental system. The 'local' DiGiRack, configured as 40 mic/line ins plus 24 line outs and located next to the console, performs the mic / line input channel conversion and enables theatres and regional audio companies to use an existing copper multicore from stage thus creating a direct replacement for an analogue console. Like the D5 Live, the D1 Live 40 is supplied with full input EQ, dynamics processing and onboard effects, 38x8 Matrix, 16 VCA control groups and a full effects system, eliminating the need for most external processing.

D1 LIVE DIGITAL MIXING SYSTEM

The DiGiCo D1 Live is your passport to our new world of digital mixing, in a cost effective and flexible system.

Based on the award-winning D5 Live, the console which broke the mould of digital live mixing, the D1 provides the same outstanding sonic purity and much of its powerful, instantly accessible control, in an even more compact frame and at an Access All Areas price!

The benefits of this system are equally compelling in a host of different applications: the tactile, intuitive, hands-on simplicity of the worksurface with its clear, bright backlit TFT touch screens, snapshot controlled fully automated moving-fader mixing, powerful built-in dynamics and digital effects and complete recallability of every function.

The D1 Live provides simultaneous processing of 64 mono/stereo channels and can be expanded up to 160 channels, in any combination of mono/stereo with full access to 224 inputs and 224 outputs. Each channel provides full routing from the remote mic pre amps, 240mS delay, Hi and lo pass filters, 4 fully parametric eq's and dynamics with side chain filtering.

The 25 layered faders, are grouped in blocks of 8 with 6 user definable fader banks per section.

The full digital effects system's six independent effect processors include everything from high quality reverbs, delays and pitch change to multiband compressors and 28-band graphic equalisers.

The 40 output busses can be used for up to 28 mono/stereo auxes or up to 36 mono/stereo/LCR (S)/5.1 surround busses, each with a limiter and insert point. It also provides a user configurable 38x8 Matrix, all with insert points.

All 16 IPC's (insertable processing channels) include 6-band, fully parametric EQ, compressor and up to 510mS of delay. They can be inserted across any input or output, or used as individual output processors, making the D1 a powerful system controller. With 16 VCA style control/mute groups able to control inputs and outputs, D1 is ready for any kind of application, and the flexible, modular remote input and output racks make it easy to adapt it to any system.

Add to that road-proven stability and reliability, the tough but comparatively lightweight physical design and small, space-saving footprint, and you have a mixing system that is suited to high quality installations as it is to medium-size and regional rental companies or as a logical companion console to a D5 system.

With all systems, you can record live direct to a multitrack hard disk recorder, as well as storing a complete show's settings on a tiny USB key for total portability from one DiGiCo D1 or D5 to another, as well as providing compatibility with the SoundTracs family of post production, broadcast and music Recording consoles.

DigiCo
DiGiCo (UK) Limited brings together the design and development skills that have helped create some of the world's most popular, successful and ground-breaking live sound consoles, with the digital engineering expertise and manufacturing resources of Soundtracs. The company was formed in 2002 to develop the D5 Live digital mixing system, a revolutionary approach to both the live sound console and the way it interfaces with both ends of the audio chain. In basing a console around a powerful DSP engine using proven Soundtracs hardware and software, but with features dedicated to live sound mixing, DiGiCo created the world'??s first truly open-ended console system, for which additional features will be made available in new software versions. This design philosophy ensures your investment in state of the art audio technology today will remain state of the art in the future. The D5 Live from DiGiCo: science dedicated to advancing the art of live sound engineering. Soundtracs was formed in the early 1980s by a group of recording engineers in search of a better studio console than those available at the time. The team'??s success led to two decades of audio innovation and, in 1992, its first development of a digital audio mixing console. In 1996 this program led to the launch of the acclaimed Virtua console, followed a year later by the DPC, in 1998 the DS3 and in 2000 the D4. Since 2000 the company'??s product range has been based entirely on digital audio. Along the way a host of new technologies has been introduced, including the first use by a console manufacturer of the revolutionary Sharc DSP from Analog Devices, a faster, more efficient processor than any then on the market, the first (and still the most comprehensive) use of multiple TFT LCD touchscreens, a pioneer in the use of a 96kHz sample rate, and the first to run multiple sample rates simultaneously. This is just some of the experience that has gone into creating the D1 Live digital mixing system, the latest innovation from one of the pioneers of professional digital audio.
Used Digital Mixing Consoles
Audio mixers, or sound consoles, are electronic sound mixing boards used to combine two or more audio signals, before directing them to the output channels connected to the device. Sound consoles do a great deal more than just combining different audio signals they allow users to optimize the sound output in a number of ways adjusting various sound levels, enhancing sound with special effects and equalization etc, allowing for unmatched control over the end product.