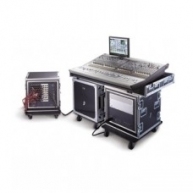 Want the sound and functionality of your Venue system but can't justify bringing it to smaller venues? Digidesign's compact D-Show Profile is the answer. This compact mixing console is fully compatible with all existing Venue hardware components, delivering power in a compact form for small- to mid-size environments and applications (such as houses of worship, corporate events, theaters, mid-size concert venues, and remote broadcasts) with the exact same sound quality, reliability, and flexibility for which Venue has come to be known. Owners of Digidesigns Venue system can purchase just the D-Show Profile console for use with existing FOH and Stage Racks.
Digidesign
Company developing ProTools, a software and hardware based system for audio and MIDI recording.
Used Digital Mixing Consoles
Audio mixers, or sound consoles, are electronic sound mixing boards used to combine two or more audio signals, before directing them to the output channels connected to the device. Sound consoles do a great deal more than just combining different audio signals they allow users to optimize the sound output in a number of ways adjusting various sound levels, enhancing sound with special effects and equalization etc, allowing for unmatched control over the end product.