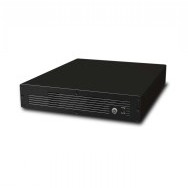 The multi image processor WB2560 is a processing engine for warping and blending with a whole range of features including camera-based AutoAlign and RealTime warp. Adding low-latency, patented Black Level Matching, and Sub-Pixel Level Matching for color correction, it guarantees that each pixel has the same color and brightness. And last but not least its compatible with active 3D stereo up to 1,920 x 1,200@120Hz.

2,560 x 1,600
Support for third party camera based AutoAlign
2 channels per 1 standard U
User-selectable filtering
Barco
About projectiondesign projectiondesign is a Norwegian company that designs, manufactures and markets high-performance projectors for professional, business and consumer applications. Amongst its core markets are high-resolution scientific visualization, visual training and simulation, medical imaging, broadcast and post production, public media and entertainment etc. Since 2013, projectiondesign is part of Barco, a global technology company that designs and develops visualization products for a variety of selected professional markets. Barco (NYSE Euronext Brussels: BAR) is active in more than 90 countries with about 3,900 employees worldwide. Barco posted sales of 1.156 billion euro in 2012. projectiondesign is located in Fredrikstad, Norway.
Used Video Processors and Mixers
A video processor, sometimes called a vision mixer, is used for professional compositing of video sources or the selection of video sources, in a similar fashion to the way audio streams are mixed and matched with a mixing console. This video processor technology is normally used in TV studios, video editing bays and production trucks or studios, in the production of TV shows, theatrical shows and concerts. Video processor is actually a term more commonly used in the United States â?? in Europe and other English speaking countries, the terms video or vision mixer are preferred. The operator of a video processor will generally be called a technical director in all countries however. The technical director will use the video processor to generate multiple transitions of video sources, such as pattern swipes or dissolves. The video processor can also be used to create color signals (or mattes) and carry out keying operations. As such, most video processors are geared towards professional use, and feature either a Serial Digital Interface (in the case of digital models) or component video connections (in the case of analog models). A digital video processor is normally used for linear video editing in live TV, in conjunction with video servers and video tape recordings. For other uses, such as video presentations, VJing and small productions involving the use of multiple cameras, an analog video processor is still fairly common.